Jyothika's "36 Vayathinile" aka "36 Vayadhinile" audio has been released on Monday, 6 April. The makers had organised a grand event at Leela Palace in Chennai.
The function kick-started at 10 am and attended by who's who of the Tamil film industry. Jyothika's husband and actor Surya launched the audio of the forthcoming Tamil movie. Sivakumar, Karthi, directors like Bala, KS Ravikumar and many others graced the event.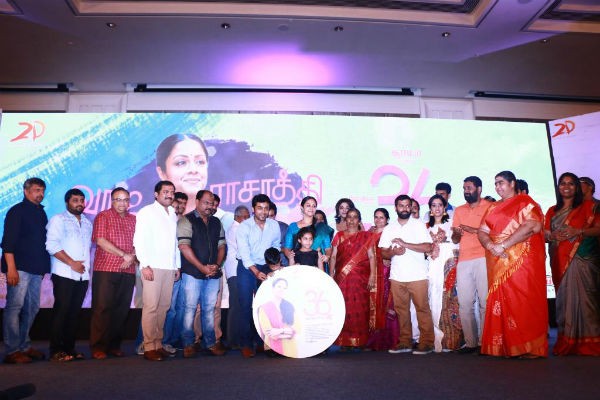 "36 Vayathinile" is the comeback movie of Jyothika after an eight-year break. The Tamil movie is the official remake of Malayalam hit film "How Old Are You". Incidentally, this film was a comeback movie of Manju Warrier after 14 years.
Jyothika was impressed by the storyline and this made her husband Surya produce the movie. The Tamil version of the movie has Rahman as the lead opposite the actress and Abhirami will be seen in the role of her close friend in the movie.
Actor Sanjay Bharathi will also appear in a pivotal role in the movie, which is directed by Rosshan Andrrews, the creator of the original version. Below, we bring you live updates from the event:
#36Vayadhinile Audio Launch Pic 04 #Jyothika @Suriya_offl @dirvenkatprabhu #Karthi @2D_ENTPVTLTD @rajsekarpandian RT pic.twitter.com/gZFBEa5pbK

— Kollywood Cinema (@KollywudCinema) April 6, 2015
#36Vayadhinile Audio Launch Photo View http://t.co/g90cUdjXQC @Surya_Offl @actorsurya @KarthiActor @DhivyaDharshini pic.twitter.com/QSJNRrsk1n — NaalayaCinema.com (@NCwebsite) April 6, 2015
@Suriya_offl #Jyothika with kids @ #36Vayadhinile audio launch @2D_ENTPVTLTD pic.twitter.com/sMy8xsP3eb

— SuryaJoDiyaDevFans (@DDSuryaJo) April 6, 2015
Years not matter! as always she is damn awesome! #Jyothika aft 8yrs! @Suriya_offl #36Vayadhinile pic.twitter.com/VFGG7pyTfM — Annamalai Valliappan (@Tweetannuval) April 6, 2015
Father Sivakumar says, "Behind success of every woman, there is a man' @Suriya_offl proves it. @Suriya_offl pic.twitter.com/BxqZFsrzeb

— Johnson PRO (@johnsoncinepro) April 6, 2015
#36Vayadhinile finally the great moment happens. A welcome red carpet for all aspiring women winners. @Suriya_offl pic.twitter.com/JKIKmA7L6o — Johnson PRO (@johnsoncinepro) April 6, 2015
#36Vayadhinile audio launch now pic.twitter.com/OS1W43J4tC

— Nikkil Murugan (@onlynikil) April 6, 2015
#36Vayadhinile audio - #Karthi says he is dedicating the song 'Rasathi' to his daughter and 2 al daughters. @2D_ENTPVTLTD @Suriya_offl — Johnson PRO (@johnsoncinepro) April 6, 2015
Diya And Dev With #Karthi At #36Vayadhinile audio launch.. pic.twitter.com/eKnxtjBIN0

— woodstimes.com (@woodstimes) April 6, 2015
• EXCLUSIVE : @Suriya_Offl With K.S.Ravi Kumar At #36Vayadhinile Audio Launch | #Suriya pic.twitter.com/xMPBvR5FHU — ❤ IAmSURÌYAFannn ❤ (@SAnandSharma) April 6, 2015
#Suriya at #36Vayadhinile Audio Launch @Suriya_Offl pic.twitter.com/9cgAtiqA89

— One Kollywood (@OneKollywood) April 6, 2015
Cute Family #Jyothika #Suriya #Karthi #Sivakumar at #36Vayadhinile pic.twitter.com/PvrDNJMtjY

— Kollywood Cinema (@KollywudCinema) April 6, 2015
#36Vayadhinile: "I told some good stories. But Suriya anna insisted that we should do films tat ve s.thing for the society" @kegnanavelraja — Only Kollywood (@OnlyKollywood) April 6, 2015
#36Vayadhinile "Suriya keeps standing on the stage because he's the producer. Producer oda kashtam ennanu theriyattum" says Karthi.

— Surendhar MK (@MadrasBachelor) April 6, 2015
#36Vayadhinile Jyothika is quite emotional. Starts off with "romba nervous ah Iruku" and goes on a thanking spree. — Surendhar MK (@MadrasBachelor) April 6, 2015
#36Vayadhinile: Jyothika is stuttering. She looks quite touched and overwhelmed with all the love and wishes.

— Surendhar MK (@MadrasBachelor) April 6, 2015
#Karthi launches #36Vayadhinile theatrical trailer , looks highly promising !

— Rajasekar (@sekartweets) April 6, 2015
#36Vayadhinile: "I'm getting goosebumps e.time I watch the teaser. I keep telling this to Anni. I've become an ardent fan now" says #Karthi" — Only Suriya Fans (@MassOfSuriya) April 6, 2015
I haven't come here for @Suriya_offl, but I have come here as #Jothika's fan, says director Bala. #36Vayadhinile

— Silverscreen.in (@silverscreenin) April 6, 2015
.@Suriya_offl and #Jothika should do a film together, requests @dirvenkatprabhu on fan's behalf. #36vayadhinile @2D_ENTPVTLTD

— Silverscreen.in (@silverscreenin) April 6, 2015
Director Vasanth: Really happy to introduce Jo & Suriya. Surya has achieved huge success, just because of his hardwork" #36Vayadhinile — Sця!уд Fдидт!с (@AlthuSfc) April 6, 2015
#36Vayadhinile but she mocked everyone with her performance says dir dharani @Suriya_offl

— Nikkil Murugan (@onlynikil) April 6, 2015
@Suriya_offl @2D_ENTPVTLTD V r rili lucky 2 ve music director like @Music_Santhosh .....superb N melodious songs #36Vayadhinile — V7 (@venurockz7) April 6, 2015
#36Vayadhinile I was adament to have jo in dhool as many asked me to think as her mar patchy at that time. Dir dharani @Suriya_offl

— Nikkil Murugan (@onlynikil) April 6, 2015
" #36Vayadhinile: "Jo's sincerity & dedication is well known. We're scared if her career'd end. Thankfully, she has revived it" KSRavikumar" — Tweets from Pluto (@ksurya700) April 6, 2015
I feel proud for introducing both @Suriya_offl and Jyothika under my direction says director Vasanth #36Vayadhinile

— Rajasekar (@sekartweets) April 6, 2015
Singer Lalitha @ 36Vayathinile Audio Launch #36vayathinile @Suriya_offl pic.twitter.com/y3fGxeto3M

— Nikkil Murugan (@onlynikil) April 6, 2015
Surya @ 36 Vayathinile Audio Launch #36Vayadhinile @Suriya_offl pic.twitter.com/EkYRb8Fllu — Nikkil Murugan (@onlynikil) April 6, 2015
Director Andrew Jose @ 36Vayathinile Audio Launch #36vayathinile @Suriya_offl pic.twitter.com/kScutH5kp3

— Nikkil Murugan (@onlynikil) April 6, 2015
#36Vayadhinile "Kalyani Nair has worked with me in all my songs. She has arranged the orchestral score for this film" says @Music_Santhosh — Surendhar MK (@MadrasBachelor) April 6, 2015
#36Vayadhinile Audio #Jyothika @Suriya_offl @2D_ENTPVTLTD @rajsekarpandian @Music_Santhosh Pic: @SuriyaFansTeam pic.twitter.com/W9eCvDsXKU

— Kollywood Cinema (@KollywudCinema) April 6, 2015
#36Vayadhinile audio launch : #Suriya has arrived. Directors Bala and Radha Mohan are here.

#36Vayadhinile dir Andrew jose now addressing. To have jo in my movie was my dream which fulfilled because of god says dir @Suriya_offl

— Nikkil Murugan (@onlynikil) April 6, 2015

#36Vayadhinile santhosh narayan gave an excellent music says dir @Suriya_offl — Nikkil Murugan (@onlynikil) April 6, 2015

#36Vayadhinile "Who fixes an expiry date for a woman's dream?" This is the basic premise of the film, says #Suriya

— Only Kollywood (@OnlyKollywood) April 6, 2015

— Surendhar MK (@MadrasBachelor) April 6, 2015
#36Vayadhinile - Director @pandiraj3 is here. @Dhananjayang and Sivakumar have arrived too. #Suriya escorts his mom to her seat. — Surendhar MK (@MadrasBachelor) April 6, 2015
All set Ready for Jo starring 36 Vayathinilae produced @Suriya_offl 2D audio release in few mnts...Best wishes pic.twitter.com/yHtwHvuXMu

— Nikkil Murugan (@onlynikil) April 6, 2015
#36Vayadhinile - @DhivyaDharshini is hosting the event. Suriya on stage now.

— Only Kollywood (@OnlyKollywood) April 6, 2015
#36Vayadhinile audio launch - @Suriya_offl ,Jyothika and their adorable kids Dev and Diya are here...

— Rajasekar (@sekartweets) April 6, 2015