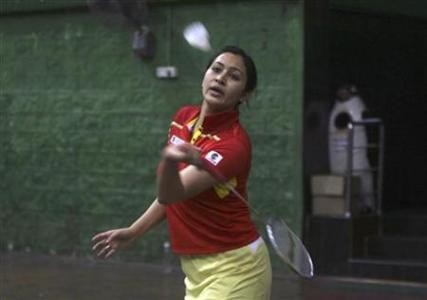 Jwala Gutta, one of India's premiere doubles badminton players, said in a recent interview that India will successfully amass at least three gold medals at the Common Wealth Games in Glasgow.
Gutta placed high hopes on fellow shuttlers Saina Nehwal and PV Sindhu to reach the finals and win a medal each.
"In doubles it would be tough. But in singles there's not much competition. I am hoping that Saina-Sindhu reach final. Even in rankings, I think there's nobody except Saina and Sindhu, but in doubles you have Malaysians, the English and also the Singaporeans," Gutta said in an interview to PTI.
Gutta, who had won gold along with partner Ashwini Ponnappa at the CWG held in Delhi four years back, thinks that they have a good chance of repeating the feat at Glasgow. She seemed to be all praise for Ponappa and said: "Ashwini is one of the best players in the world. She's famous for her hard smashes, I am lucky to play with her."
When quizzed on her thoughts on not having a home ground advantage impacting the game, Gutta said: "Why do you think it would be different? It does not matter, we have done outside India as well. We have won outside India as well. For us every tournament is just a tournament. I always enjoyed playing in different places. I don't take pressure.
"We played well at the Thomas Uber Cup, we did well in Japan and Indonesia in the run up to the commonwealth games. We are in the right track."
Gutta then went on to humbly thank the Government of India, for allowing the games to be played here back in 2010, which she says further boosted the entire Indian contingent's confidence in taking on the world.
"It's been great, training well for last four months. I am working a lot on my strength. I want to thank the Government of India to bring CWG to Delhi, it has led to massive growth of all sports. There's a lot of public and media attention now," said the shuttler, on how the games have helped in bringing about general mass awareness towards sports in India.
Gutta also chose to speak about getting dragged into controversies unnecessarily. Last year, she was accused of having delayed a match during the first edition of IBL, through which she invited a life time ban from badminton but was later pardoned by the Badminton Association of India.
"I was just telling the truth, they had to take back the allegations. I am playing now. Everything is sorted out," Gutta stressed.
"I don't create controversy, I am a person who speaks her mind. If people don't like it that's their problem. I love badminton that has given me many things. If something is going wrong in badminton I will speak."