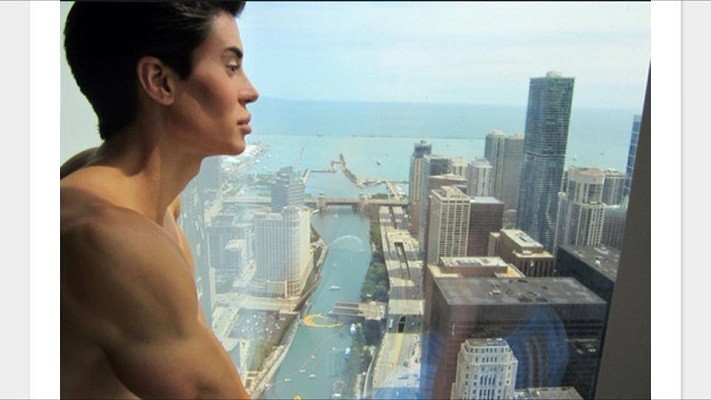 The popular 'Human Ken Doll,' Justin Jedlica has shifted to a condo in Chicago's classy Trump Towers. The change of address of Jedlica is to bring him closer to his new husband, who has business interests in the city, reported DNAinfo.
Jedlica, who is now aged 33, has said that he has had 140 plastic surgeries in aspan of 15 years that involves 12 implants in his torso, 15 silicone injections in his buttocks and 11 surgeries in his face. This led to him being given the nickname 'Human Ken Doll' after appearing on TV for the first time in 2012, to a show called "Extreme Plastic Surgery."
He claims that on his part, there was no motive to look or mimic the Mattel toy doll, Ken. "They just kind of flippantly said, 'Meet our human Ken doll, Justin Jedlica, whose upper body is filled with plastic implants,'" he said.
"And it was just kind of cute and catchy, there was no other reference in the entire piece that I had had surgery to look like a Ken doll. And I don't even necessarily say I look like a Ken doll, but that's what people wanted to believe."
Jedlica has been appearing on numerous reality TV programs and now aims to expand his client list to Chicago. He has his own plastic surgery consultation business where he charges $500 for a single-session assessment for procedure options, doctor recommendations and giving a sketch for treatment plan.
He also added that while Los Angelenos treat their plastic surgery "like a badge of honor" and New Yorkers are "very hush-hush," Chicagoans are "more conservative about it."
He also wants to partner with the doctors from the locality so that he can start working on clients from his new Chicago condo.
Jedlica claims he knows the values of dollar when he grew up in Fishkill, N.Y., he never bought anything or went on a vacation. For him, surgeries were his vacations.
He celebrates after each procedure where all his friends fly in and have a huge party.