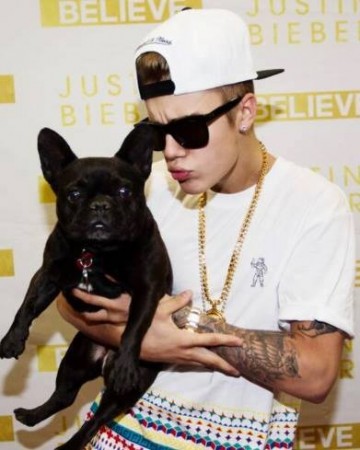 A 42-year old man was literally snatched back from the claws of death, all thanks to Justin Bieber's popular song 'Baby.'
A fisherman in Russia was attacked by a bear, when his cellphone rang and the ringtone on the phone - Justin Bieber's - Baby scared away the attacking bear. The victim, Igor Vorozhbitsyn, had just arrived at a fishing spot in nothern Russia, when the violent brown bear attacked him.
"I had parked my car and was walking towards the spot I'd marked out when there was a tremendous impact on my back and the bear was on top of me," New York Post quoted Vorozhbitsyn.
Just then, Vorozhbitsyn's phone starting ringing, playing Bieber's chart-topping number. "I couldn't believe my luck when the phone went off and he fled," Vorozhbitsyn noted.
The attacking bear mauled Vorozhbitsyn's face and chest, inflicting serious cuts and bruises.
He said that his grandfather had loaded the song onto his phone as a joke but he was thankful that it saved his life. After seeing the bear flee, he called for help and is now recuperating from the wound.
Fox News: Russian Fisherman: Justin Bieber 'Baby' Ringtone Stopped Bear Attack http://t.co/IEWezMOLlh pic.twitter.com/XccKiVgHGO
— News (@politicsRSS) August 6, 2014
The Daily Mail citing a wildlife expert stated that the violent bear must have gotten scared of the sudden loud noise. "Sometimes a sharp shock can stop an angry bear in its tracks, and that ringtone would be a very unexpected sound for a bear," the unnamed expert said.
Justin Bieber's Baby is the Second Most Hated Song
Canadian singer Bieber's Baby was released as the lead single from the latter half of Bieber's debut album, My World 2.0.
The official music video currently is the second most-viewed video on Youtube. It used to be on it number one position, till it was surpassed by Gangnam Style by Psy.
Despite huge popularity, Baby was also at one point the song with the most dislikes on Youtube. Now it is officially the second most hated song in history after Rebecca Black's Friday, according to a CNET.