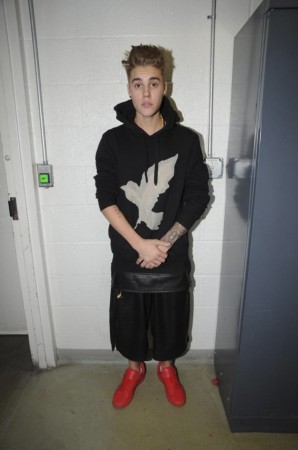 Justin Bieber, who stormed out of court last week after he was asked about his relationship with Selena Gomez, may now have to forcefully answer questions regarding his relationship with the "Come and Get It" singer.
The lawyer who is fighting the case against Bieber has sought permission to interrogate the "Baby" singer about Gomez, reports indicate.
Gomez's name is being dragged into the case as she was in a relationship with Bieber when he allegedly sent his men to beat up a photographer.
"The plaintiff's lawyers will run with this as far as they can," Bieber's lawyer Roy Black told HollywoodLife. "They have no evidence to prove Justin had anything to do with the so-called assault on his client so why not cause as much controversy as possible. It is more fun being on TMZ than being in court."
Last week, during a deposition leading up to the alleged beating incident, Bieber was asked questions about his relationship with Gomez. However, he refused to answer them and reportedly shouted: "Don't ask me about her! Do not ask me about her!"
Now, the photographer's lawyer has court documents demanding that he should be allowed to get his queries regarding Gomez answered. Moreover, the victim's lawyer wants Bieber punished for his rude behaviour.
Meanwhile, Selena fans are sad to know that Gomez's name is being dragged in court because of Bieber. The "Beauty and the Beast" singer's bad-boy ways has always posed a problem for Gomez, and this was said to be one of the reasons why she was apprehensive about rekindling her relationship with him.
However, now that Bieber and Gomez are reportedly in a relationship, sources close to the couple say she is madly in love with the singer and will do anything for him.