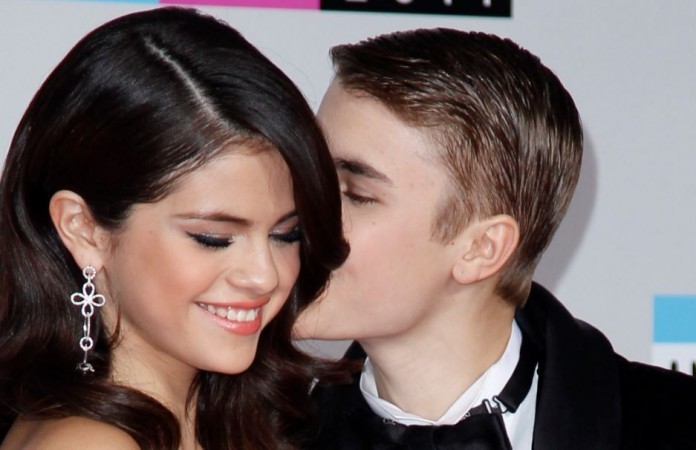 Teen sensation Justin Bieber is in the news again for all the wrong reasons; this time for allegedly sending nude photographs and abusive text messages to his ex-girlfriend Selena Gomez.
RadarOnline on Monday reported that the former couple exchanged heated texts last week after the police raided the "Baby" singer's house. Selena allegedly called Justin a "drug addict", which eventually led to an ugly fight between the two.
However, Selena's representative Jill Fritzo has denied reports of Justin sending nude photos and derogatory messasges of bad taste, according to MailOnline.
Here are the messages exchanged between the former couple, according to RadarOnline.
Justin: "Baby come on. I love you"
Selena: "I don't buy that bulls**t anymore. I was honest with you and I gave you a second chance. All my friends were right, You're such an a*****e."
Justin: "You're all I need right now. I know I can make it right with you."
Selena: "U r a drug addict. U need help."
Justin: "Come on. Don't tell me you don't miss this."
Selena: "Stop. You need to listen to Scooter [Braun, his manager] and go to rehab. U r sick."
Justin: "Rehab? F**k that! I make that f****r so much money. Cum on baby."
Selena: 'Why r u sending these to me. We r done. And how can u let [Lil Za] take the fall for your actions. U need to grow the f**k up. I hope you get jail time. U deserve it at this point."
Justin: "F**K YOU!!!!! I need to grow up?! HA ok! Enjoy life with OUT ME B***H!!! F**k you. F**k Scooter. F**k all y'all. IAM DONE!"
Selena: "Good!!! Go retire or whatever bulls**t attention ur trying to get."
Justin: "Can't hear you over my cash, babe! You're only famous cuz of me. You know it. I know. Everybody knows. Bye. ... Go f**k someone else. Keep that talentless p***y away from me!"
The website reported the messages were "forwarded by a cellphone registered to Gomez's stepfather, Brian Teefey, to one of her friends."