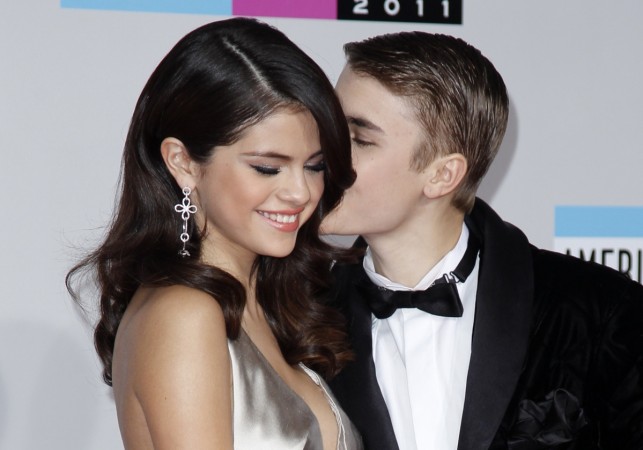 Justin Bieber and Selena Gomez have once again got their fans wondering about their latest relationship status. Ever since the "Hands to Myself" singer showed up at Bieber's concert in LA, the Internet is abuzz with stories speculating a possible reunion. Latest reports say the "Sorry" singer would definitely be using the brief three-day Easter break in his tour between March 26 and 28, to spend free time with his former girlfriend.
Both Bieber and Gomez have dropped major clues about possibly still having feelings for each other and with this, fans are finally seeing a ray of hope about an upcoming reunion. While many were still trying to figure out why Bieber posted a photo of him kissing Gomez on his Instagram, soon after, the "Same Old Love" ended up surprising everyone by showing up at his LA concert. And not just this, the former couple even spent a lot of quality time together post the show.
According to Hollywood life, the two singers were reportedly inseparable and their chemistry seemed very strong. "Selena and Justin spent time together at his hotel more than once in the last week. They were poolside, had lunch in the dining room and had a drink at the bar," Hollywood life quoted a source as saying.
"They appeared flirty and very touchy-feely. They seemed very close, and you could tell there was some obvious sexual chemistry between them. They were mostly alone when together, preferring to spend time with each other than anyone else," the source added.
Having sparked such strong rumours about a possible reunion, the "Baby" and "Good For You" singers are now working out ways to rekindle their new romance, the report said. And apparently, it's Beiber who wants to spend more time bonding and rebuilding their relationship.
The report also said that Bieber wished he could cancel or take time off his "Purpose" tour to be with Gomez. But if not that, he would definitely try to spend time with Gomez during the three-day Easter break in his tour between March 26 and 28.
"He anticipates being back in LA soon after his show in Fresno on Saturday, and being with her until he has to go back on tour on the 29th. He wants a mini stay-cation in LA with her," a source said.
Gomez is also reportedly looking forward to this. "She is definitely down, if he ends up coming back to LA for a few days since that is the plan, she will definitely make sure to see him," the source added.
Now, if there's any truth in these rumours, then it looks like Justin Bieber and Selena Gomez fans are finally in for some good news as their favourite singers might just get back together.