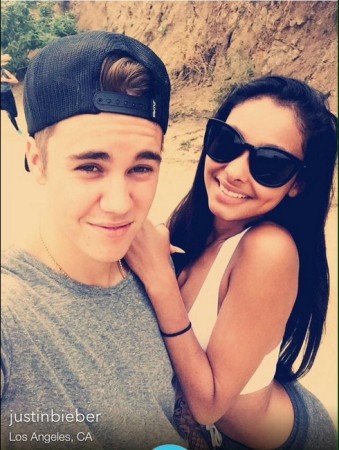 All Justin Bieber needs is a "Beauty and Beat", and looks like he had both with him when he went hiking with his new arm candy Jayde Pierce.
The 21-year-old made headlines after he went hiking with UK model Jayde Pierce and posed for cozy videos that the latter posted on her Instagram profile. The singer posed shirtless for one of Jayde's videos, in which he was seen encouraging her for the uphill climb as the model seemed to give up halfway.
The second video is even hotter than the first one, as a shirtless Justin was seen carrying the model, who wore just a a sports bra and shorts, on his back. "Yay we made it to the top!" Jayde said in the Snapchat video. "He carried me halfway through but that's fine."
The couple looked quite happy together and the piggyback ride shows that Biebs and Jayde bonded quite quickly over the Runyon Canyon hike. Justin's reps haven't confirmed whether the singer is now seeing the model or not, but they sure look quite taken with each other.
Meanwhile, the "As Long As You Love Me" singer has said that he is going to surprise his fans with the new songs that he has been working on, and also admitted that he does not have any time for a serious relationship. But when he does decide to settle down, it will be with someone with whom he can spend "the rest of his life".
So is Justin pointing towards his ex, Selena Gomez, and hinting a mirage proposal for when the time comes? Right now no one has the answer to that, but here's to hoping that he gives us a hint through the new songs he will release soon.