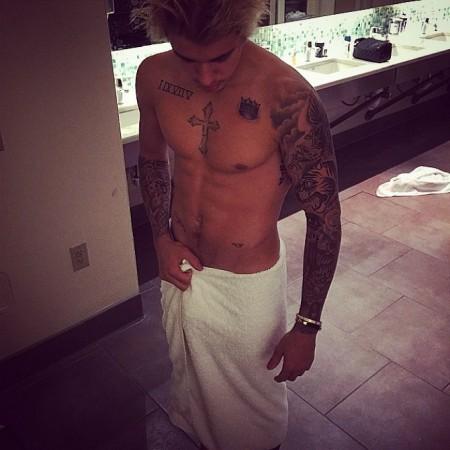 After the internet went into a frenzy over Photoshop claims of Justin Bieber's Calvin Klein ads, the "Baby" crooner took to social media to prove that the photo-editing app did not play any part in the sexy ad campaign.
The social media claims went to the extent of questioning the 20-year-old's "bulge" and this seems to have had stung Bieber. He posted a shirt-less picture of himself on Instagram. From waist-down, he is wrapped in a towel. The picture was clearly aimed at defying the Photoshop claims as the caption that he added with the picture, read: "Photoshop LOL," Mirror reports.
His body tattoos are clearly visible on his perfectly toned body and well-defined abs. The picture received around 1.2 million likes and a fan, named melicruz08, even called him "perfect".
Critics had said that in the Calvin Klein ad pictures, Justin Bieber's muscles as well as his "bulge" seemed to have had been enhanced using Photoshop.
According to Mirror, Bieber's biceps in the campaign are real and his toned body is due to hard work and nothing else.
The singer said: "I work out with my trainer, Patrick Nilsson, five days a week for about 45 minutes each. We do three days splits: back and triceps one day, chest and biceps on day two, shoulder and legs on day three, and abs every other day. I'm not on a special diet, but I do try to watch what I eat. I do eat unhealthy sometimes - I am a 20-year-old guy!"
Justin's trainer Patrick Nilsson confirmed that his bulge in the photographs are legitimate. "I can definitely confirm that he is a well-endowed guy. I sound weird saying that, but yes,"Nilsson told Access Hollywood. However, it remains a mystery how Nilsson discovered this detail about the Canadian singer.
Meanwhile, Instagram took down Bieber's towel picture. Maybe it is too much to handle!