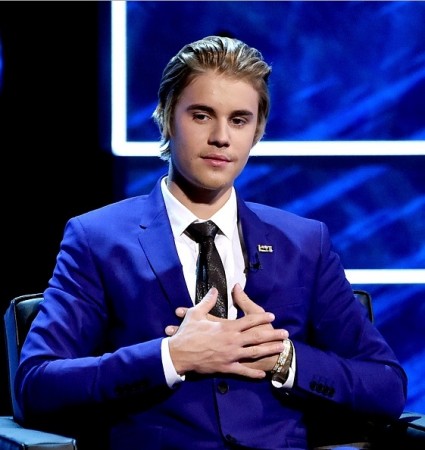 Justin Bieber seemed very happy that his favourite boxing legend Floyd Mayweather beat Manny Pacquiao fair square in the boxing ring. But paparazzi found out that the epic win might not be the only reason why the Canadian singer looked so happy.
The 21-year-old singer might be dating Victoria's Secret model, Shanina Shaik as both of them reportedly looked quite cozy in the after-party that was held to celebrate Mayweather's victory.
The 'Baby' singer was snapped with the model in two pictures, one of which seems to have been deleted by Bieber and another which still there for fans to see on Instagram. In the both the pictures Bieber held his girl very close to himself and both of them seemed to be enjoying each other's company a lot.
While the Canadian singer looked dapper in his grey suit, the model wore a body hugging dress baring her midriff; and the deleted picture which showed Bieber's arm wrapped around the brunette's waist was captioned " Came with the fits"
Also at the pre-fight party Rehab hosted by Bieber at the Hard Rock Hotel, the "Never Say Never" singer did not shy away from showing his toned abs and soon afterwards, the singer was seen to be very close with the model, as the pictures showed that he couldn't keep his hands off the 5ft 6in stunner [Find pictures here].
But this isn't the first time that Shaik has been romantically linked with Justin Bieber. The couple was snapped together on a luxury private yacht in Ibiza last year and though the model was then dating Tyson Beckford, the pop singer seemed to care less.
Wonder if Selena Gomez still wants him back in her life!