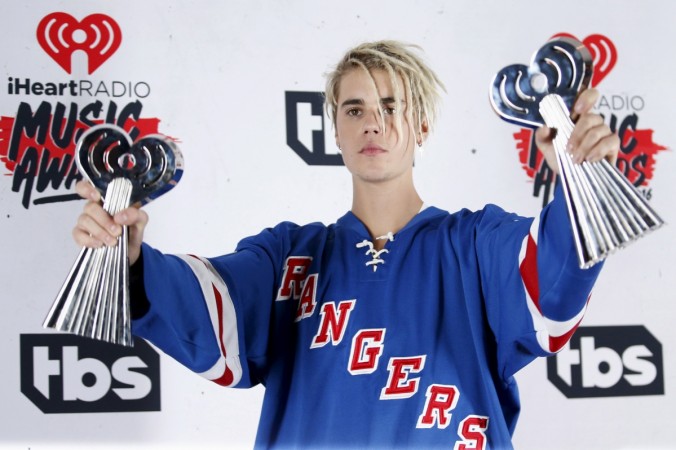 Singer Justin Bieber was knocked down during a fight in Cleveland on Wednesday, and a video of the altercation has since been released. The video seems to have been taken on Snapchat and captioned "Justin Bieber getting his a** kicked!!" sees the hotheaded singer taking on a man twice his size. The fight reportedly happened shortly after 11 p.m. outside Bieber's downtown Cleveland hotel.
The video shows Bieber and an unidentified man getting involved in a shoving match, following which the 22-year-old was knocked down. Cleveland resident Lamont Richmond later posted a video on his Facebook page claiming to be the man in the fight. According to Richmond, Bieber was the one who started the brawl and all Richmond was trying to do was get an autograph for his daughters.
CLICK HERE for the video.
"[Bieber] was apparently talking to the girl this guy was with, and when the guy stepped in, Biebs told him he would f**k him up," an eyewitness told ETOnline. "That's when fists started flying."
"Biebs was hanging out outside the hotel, and had been getting harassed by people walking by (mostly guys making fun of him) and hounded for pictures, so he was a bit on edge," the same eyewitness added. "He had a friend about his size with him, and there was a bodyguard or two but he was kind of on his own, wandering around. Bodyguards only stepped in after Bieber hit the deck."
In the past couple of months, Bieber has been exhibiting a lot of odd behaviour, sparking concern that he is on the verge of an emotional breakdown. Last month, he was spotted roaming Boston barefoot and he was photographed sitting on a tree and feeding squirrels. Although he greeted his fans, he refused to pose for pictures with them.
"If you happen to see me out somewhere know that I'm not gonna take a picture I'm done taking pictures," he wrote on Instagram. "It has gotten to the point that people won't even say hi to me or recognize me as a human, I feel like a zoo animal, and I wanna be able to keep my sanity."
Earlier in May, he made headlines after he started crying onstage during a Philadelphia show.