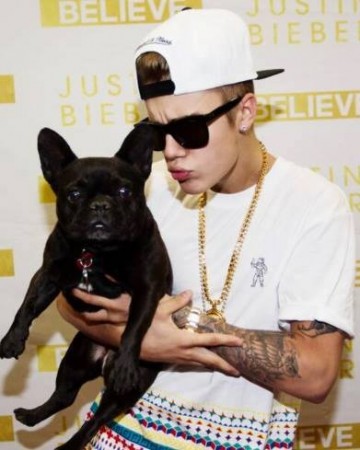 Fans of Justin Bieber and Austin Mahone were in for a shock on Monday, when a photograph of the singers locking lips started doing the rounds. But the picture was found to be doctored, quashing rumors of a link-up between the two.
Questions on Bieber's sexual preferences were raised after Huzzlers reported, citing a tweet believed to be from Bieber's Twitter account, that the "Baby" singer has found a new boyfriend.
"Meet my new boyfriend. I'm Bi, so what? f**k what anyone thinks," the tweet, which was deleted after just half an hour, read.
This message was accompanied by the photograph of Bieber and Mahone kissing, and a section of fans were quick to believe the news as Mahone and Bieber had been in Miami together last week. They were working on a new duet and it involved some late nights in the studio.
"They really respect each other's music," a source told HollywoodLife. "They work with a lot of the same producers and Justin knew Austin has been in the studio working on his album. Justin had a song he thought could be really perfect to do with Austin so they got together in the studio."
It is surprising that Bieber would want to work with Mahone, especially after Taylor Swift attempted to set up Bieber's on-again, off-again girlfriend Selena Gomez with Mahone. And although the duo did hang out, a romance was not forthcoming.
"We're just friends. When I was in LA [in January], I hit her up," Mahone told HollywoodLife in an interview. "I was like, 'Hey, I'm in LA. What're you doing?' She was like, 'I'm going to the Beats party tonight.' I was like, 'Oh, cool, let's just hang out or whatever.' I saw her there and then she was playing me some music, and she's got some great music coming up."
(Edited by Vanilla Sharma)