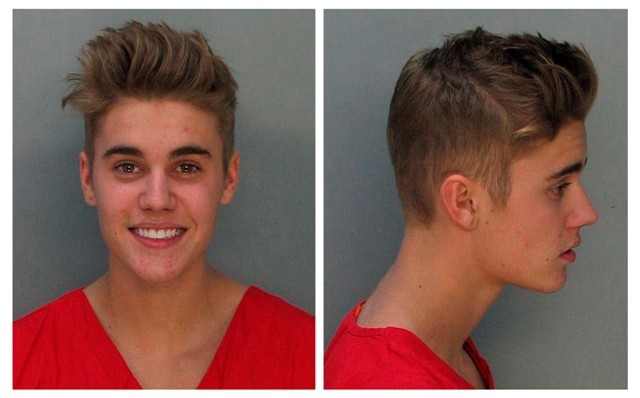 Justin Bieber, who was arrested on Thursday morning in Miami for driving under the influence and drag racing, might have appeared confident and happy when his mug shot was taken. But, multiple reports claim that the Canadian singer was a nervous wreck, and burst into tears soon after his court hearing.
People reported that Bieber cried his eyes out soon after his court hearing, and body language experts claim that the 19-year-old was "scared to death," although tried to put up a false bravado.
Analysing Bieber's mug shot, body language expert Lillian Glass told HollywoodLife.com: "This is not a genuine smile. He is scared to death. If you put [your] hands over his mouth, his eyes are not smiling — it's a nervous, tense type of smile. He is frightened. When you see the side shot, his head is cocked — he is trying to put on a good show. [But] inside, he is scared to death."
Bieber has since been released on a bond of $2,500, and according to reports, he ratted out on his mother, Pattie Mallette, to police officials when asked about possessing prescription drugs.
Police officials told TMZ that when they quizzed the Canadian pop star about substances he had taken before his arrest, Bieber said he had taken anti-anxiety drugs. However, he was not sure what kind as his mother had given them to him, the report said.
When law enforcement officials raided Bieber's house last week to investigate allegations that he pelted eggs on a neighbor's house, plenty of Xanax pills were found on the property, and this could be the prescription drug Bieber had in his system.
In the meantime, Bieber's mother has urged his fans to pray for him, and sources close to her revealed that Bieber has not been keeping in touch with his mother.
"Justin is not listening to his mother and he's been trying to avoid dealing with her and other people in his camp," a source told Mail Online.