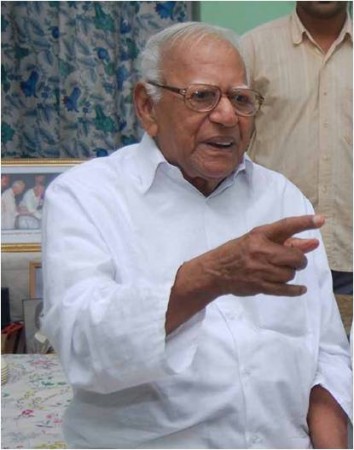 Former Supreme Court Judge and minister of Kerala's first Communist Government, Justice VR Krishna Iyer died due to renal and cardiac failure at 3:30pm on Thursday.
Iyer, who celebrated his 100th birth anniversary last month, was undergoing treatment at Medical Trust Hospital in Kochi, Kerala. He was admitted on Friday after he complained of weakness on the left side of his body on Tuesday.
He was under the observation of cardiologist, Manu R Varma, who was treating him for high sodium levels and an abnormal heart rhythm. His health was said to have deteriorated on Wednesday, The Hindu reported.
As he had stopped taking food orally, he was put on a liquid diet, being fed through a nasal tube for the past few days.
His Life and Contribution to Law
Born in a Tamil Brahmin family in Vaidyanathapuram near Palakkad in Kerala's Malabar region, Iyer received his education from Basel Mission School in Thalassery and did his Intermediate from Palakkad's Victoria College. He did BA from Annamali University and LLB from Madras University.
He started his career in law in 1937 from Malabar and Coorg courts, where he was a practicing lawyer under his father VV Rama Ayyar – a leading criminal lawyer. During his practicing years, he appeared for workers and peasants.
However, he shifted to politics in 1952, when he became a member of the Madras Legislative Assembly. He later joined the first Communist Government of Kerala and held several portfolios, including law, justice, home, irrigation, power, prisons, social welfare and inland navigation.
He returned to law and started practicing again in August 1959, but it was only in 1965, he completely parted ways with politics after losing the assembly elections.
Later in his years as judge, he became the judge of the Kerala High Court in 1968, and then served as Judge of the Supreme Court from 1973 until his retirement in 1980. He also became a Member of the Law Commission from 1971 to 1973, The Hindu reported.
Some in the Kerala judicial circles referred to him as the "revolutionary judge" for making strong judgements and would acknowledge him as the "Pride of Kerala." His famous judgement against Indira Gandhi invited criticism from many others.
When Iyer upholded Allahabad High Court Justice Jagmohan Lal Sinha's judgement, which found the former Prime Minister guilty of electoral malpractices and invalidated her election, he was called "the man who triggered the Emergency."
She had declared a state of Emergency just before midnight on 25 June as Iyer had not barred her from executing orders as a PM, according to Manorama.
In his life, he has made several landmark judgements including "Shamser Singh case which interpreted the powers of the Cabinet vis-à-vis the President, Maneka Gandhi case which gave a new dimension to Article 21, Ratlam Municipality case, and Muthamma's case."
Iyer has received several awards in his lifetime; one of them was Padma Vibhushan, awarded in 1999 by the President of India. He has written multiple books, which has also been published. Iyer is survived by his two sons.