DCEU fans brace for impact. After Zack Snyder's unexpected exit from Justice League following his daughter's sudden demise, JL director's recent act will prompt you to question, what on earth is going on at DCEU and Warner Bros?
The visionary who had big plans for DC's Extended Universe made a small yet jaw-dropping change which has raised series of speculations. The Man of Steel director returned to Twitter after a break and updated his Twitter page that stunned a few fans. He replaced the Justice League logo on his Twitter profile with his own picture, and removed the Justice League poster from his Twitter cover photo, leaving it blank.
Also Read: Justice League fans support Zack Snyder after director steps down from the DC movie due to family tragedy
Normally such a change usually doesn't garner much attention. But Snyder's exit and Avengers' director Joss Whedon's replacement cause a lot of stir. With no association whatsoever with Justice League on his public profile, is Snyder distancing himself from the studios as well?
There were also speculations that Whedon was doing major changes to the script and it could end up being Whedon's movie and not Synder's movie. This small step towards changing the picture has only added to the spark. It makes sense that if the movie is not as Snyder pictured it to be, it is not his project anymore.
This also explains why Whedon is being considered as the "new" director of Justice League and not termed him as a co-director. Though Warner Bros had "handed over the baton" Whedon's title is not defined in the movie.
Another speculation that Snyder's actions intensified is on Whedon overshadowing Snyder in DCEU. Last month, DC chiefs Jon Berg and Geoff Johns told Variety that they had bigger plans for Whedon with regard to his future in DCEU. They revealed that his role in the studio will expand. This paved way to rising speculations that Whedon could be overshadowing the Batman v Superman: Dawn of Justice director. With Synder's move to remove the logos from his social media profile, the director just fuelled more rumours.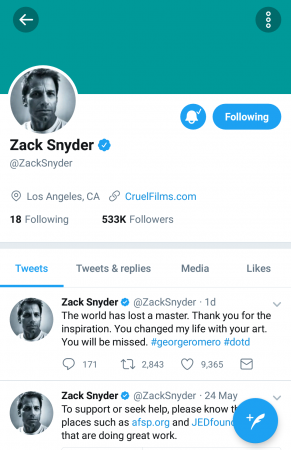 While Screen Rant also shares that the action could mean nothing at all, but Snyder may have foreseen the kind of conclusions fans would reach following his steps.
We feel that he is trying to put forward a message, what do you think? Let us know in the comments below.
Justice League is slated to release on November 17, 2018, and the new trailer is expected to release at San Diego Comic-Con this weekend.