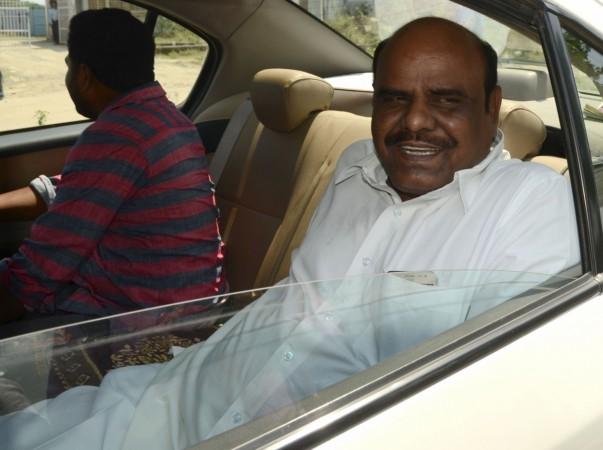 Calcutta High Court Judge CS Karnan, who is facing arrest for being held guilty under the Contempt of Courts Act, retires on Monday (June 12). Karnan will be the first High Court judge to retire while still absconding.
Where is Justice Karnan? West Bengal police unable to trace the Calcutta High Court judge in Chennai
Justice Karnan has been missing since May 10 after the Supreme Court awarded him a six-month sentence on May 9. The order came after Karnan "sentenced" Justice Khehar and six other Supreme Court judges to five years of jail on May 8 after he "found them guilty" under the Scheduled Castes and Scheduled Tribes Atrocities Act, 1989, and the amended Act of 2015.
However, when Justice Karnan's lawyer pleaded for an urgent hearing on suspension of the sentence, the top court had refused to accept a relief plea filed by Calcutta High Court. The apex court had also said that due process would be followed in the case.
Chief Justice of India JS Khehar instead asked the lawyer to first file the petition before the registry. The CJI had even refused to accept the copy of the petition submitted by advocate Mathews J Nedumpara, who appeared on behalf of Karnan. "We are not the registry. You file the petition before the registry. You cannot keep on handing papers to us. You have to follow the procedure," Justice Khehar had said.
Justice Khehar had also said that the case would be heard by the same bench which had held the judge guilty of contempt.
Justice Khehar had also added that the decision by the bench, which also includes Justices Dipak Misra, J Chelameswar, , Madan B Lokur, Pinaki Chandr Ghose and Kurian Joseph, was a conscious one and they alone will be hearing any plea submitted against the order.
Moreover, there is a very low probability that the seven-member bench would re-assemble to hear his plea for the suspension of his sentence, as the apex court is on summer recess.
Back then, advocate Nedampura had said that Karnan, who has been untraceable, is in Chennai.