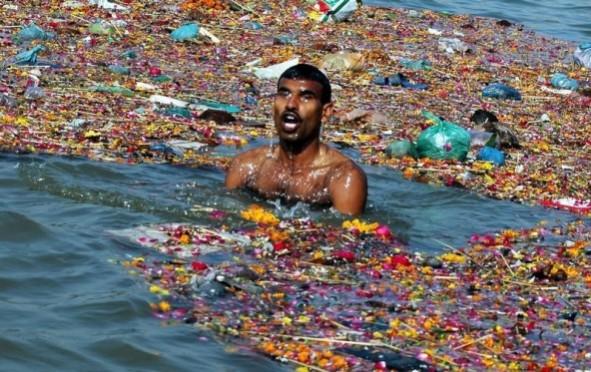 Cleaning "Maa Gange" was one of the primary goals of the Narendra Modi government but at the onset of completing its term, it has failed to achieve any of the objectives. The information accessed through a Right to Information (RTI) query has revealed that the government has released only around Rs 5,500 crore from 2013-2014 till June 30, 2018, for the National Mission for Clean Ganga (NMCG).
The revelation has come as a shock as the allotted amount for this ambitious mission was Rs. 20,000 crore.
According to The Tribune, Ropar-based activist Dinesh Chadha had sent an RTI to the Ministry of Water Resources, River Development and Ganga Rejuvenation and the response has revealed the sorry state of the efforts being carried out for cleaning Ganga river.
Moreover, the ministry has also planned to encourage private companies to clean Ganga river as part of their Corporate Social Responsibility projects. Through its website, the NMCG had invited the private players to carry out activities like ghat construction, cleaning of the ghat, IEC activities, bio-remediation of nalas and drains Ganga gram, crematoria, river surface cleaning using trash skimmer, solid waste management and tree plantation.
But the RTI query showed that the private players have also shown cold shoulders to this initiative and till July 30th, 2018, no company has shown its interest to adopt any projects.
Chadha questioned the intention of the centre and said that the list of individual contributors does not include any of "politicians who play politics on the name of Ganga". When it comes to the individual contribution, Dr. Simon John of the Delhi Diocese of Believers Church has contributed the highest amount of Rs 1 crore.
The other 1,523 citizens have donated about Rs 2.36 crore for the clean Ganga mission. Meanwhile, the CGF managed to collect around Rs 255 crore the CSR till July 27, 2018. Although the RTI reply does not tell about the amount being used for the Ganga rejuvenation, Minister of State for Water Resources Satyapal Singh informed the Parliament that "as on date no fund has been utilised by the Namami Mission for Clean Ganga under the CGF".