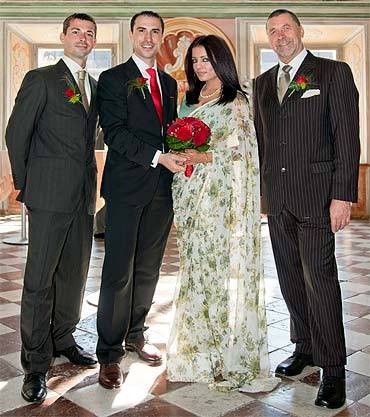 Bollywood actress Celina Jaitley joins the marriage bandwagon Monday, tweeting officially.
Announcing her marriage "Beloved tweeple. ..With great pleasure I would like to announce my wedding with @peterhaag n the 23rd of last month at a thousand year old monastery in Austria," she tweeted.
"We seek your blessings and good wishes, and apologize for the delayed announcement due to a family tragedy ..." she said.
Celina Jaitley tied the knot with her Dubai-based hotelier boyfriend Peter Haag in a 1000-year-old monastery in Austria.
In his profile on Twitter, Peter describes himself as, "hotelier, marketeer, brand strategist, passion for luxury, hotels, fashion, photography, design, innovation and nature and apple-fanatic."
The couple has been together for one-and-a-half-years.
At the time of engagement in Mumbai, Celina, tourism ambassador of Egypt, had insisted that they would only tie the knot in Egypt.
Profile of Celeina Jaitley
Nick Name: Chinto, Chinki
Date of Birth (Birthday): 9 June, 1981
Height: 5'6"
Hair Color: Black
Birth Place: Kabul, Afghanistan
Education: B Com graduate
Marital Status: Single
Languages: Hindi, English
Hobbies: Surfing the net, reading, sketching and listening to music
Favourite Actor: Amitabh Bachchan
Favourite Actress: Sushmita Sen
Likes: Papaya
Hobbies: Surfing the net, reading, sketching and listening to music
Debut Film: Janasheen
Famous Movies: Accident on Hill Road, Paying Guests, Golmaal Returns, Money Hai Toh Honey Hai, Shakalaka Boom Boom, Red: The Dark Side, Apna Sapna Money Money, Zinda, Tom Dick and Harry, Aksar, Mazhab: The Religion, No Entry, Silsiilay, Khel, Janasheen
Other Facts: Fourth runner up at the 2001 Miss Universe pageant