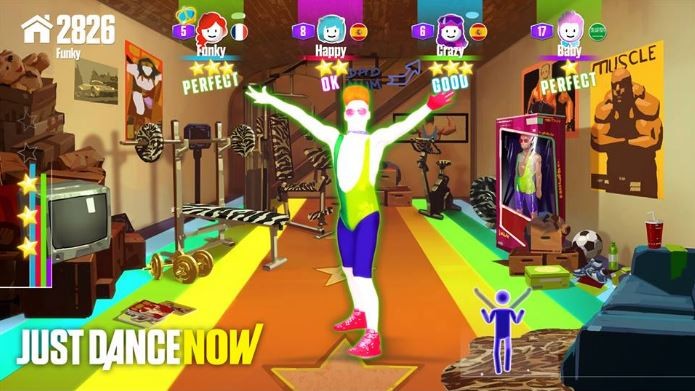 Ubisoft's Just Dance 2017 has released the full track list that includes some of the hot tracks like Sorry by Justin Bieber, Lean On by Major Lazer & DJ Snake ft. MØ, Cheap Thrills by Sia ft. Sean Paul, Dadd" by PSY ft. CL, and many more.
Since its debut in 2009, the game has garnered nearly 80 million players. However, Just Dance 2017 players will be enjoying 40 hit tracks.
Apart from the current hits, the list also features some of the classics like Don't Stop Me Now from Queen.
The game will be released on October 25 for Wii, Wii U, PlayStation 3, PlayStation 4, Xbox 360 and Xbox One. PC will receive the game on October 27. The game is expected to be released for the upcoming Nintendo NX console too.
Currently, the demo version of the game is available via Xbox Live, PSN and Nintendo eShop.
Here is the list of songs in Just Dance 2017:
"All About Us" – Jordan Fisher
"Bailar" – Deorro Ft. Elvis Crespo
"Bang" – Anitta
"Bonbon" – Era Istrefi
"Cake By The Ocean" – DNCE
"Can't Feel My Face"- The Weeknd
"Carnaval Boom"- Latino Sunset
"Cheap Thrills"- Sia Ft. Sean Paul
"Cola Song"- INNA Ft. J Balvin
"DADDY" – PSY Ft. CL of 2NE1
"Don't Stop Me Now" – Queen
"Don't Wanna Know" – Maroon 5
"Dragostea Din Tei" – O-Zone
"El Tiki"- Maluma
"Ghost In The Keys" – Halloween Thrills
"Groove" – Jack & Jack
"Hips Don't Lie" – Shakira Ft. Wyclef Jean
"I Love Rock 'N' Roll"- Fast Forward Highway
"Into You" – Ariana Grande
"La Bicicleta" – Carlos Vives & Shakira
"Last Christmas" – Santa Clones
"Lean On" – Major Lazer Ft. MØ & DJ Snake
"Leila" – Cheb Salama
"Let Me Love You" – DJ Snake Ft. Justin Bieber (Ubi Club Reward)
"Like I Would" – Zayn
"Little Swing" – AronChupa Ft. Little Sis Nora
"Oishii Oishii" – Wanko Ni Mero Mero
"PoPiPo" – Hatsune Miku
"RADICAL" – Dyro & Dannic
"Run The Night" – Gigi Rowe
"Scream & Shout" – Will.i.am Ft. Britney Spears
"September" – Equinox Stars
"Single Ladies (Put a Ring on It)" – Beyonce
"Sorry" – Justin Bieber
"Te Dominar" – Daya Luz
"Tico-Tico no Fubá" – The Frankie Bostello Orchestra
"Watch Me (Whip/ Nae Nae)" – Silentó
"What Is Love" – Ultraclub 90
"Wherever I Go" – OneRepublic
"Worth It" – Fifth Harmoney Ft. Kid Ink