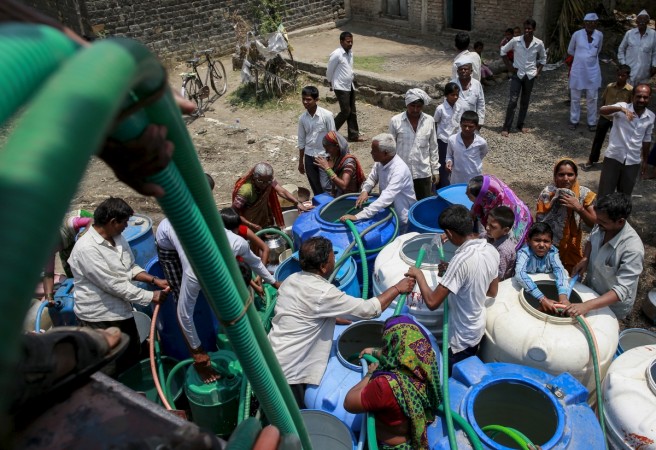 Local administrative officers have been allegedly selling water tankers meant for drought-hit villagers in the Marathwada region in Maharashtra to rich businessmen, India Today reported. Marathwada has reportedly been struck by the worst drought since 1972 and all the dams in the region have only 2 percent water left in them.
The central government sent 25 lakh litres of water in a 50-wagon train last month to overcome the extreme shortage of water in the region where Latur and Beed are the worst-affected districts. The administration has also been sending 800 water tankers each day to villages in Marathwada.
However, an India Today investigation team that went to the villages in the region found the water tankers were being sold to businessmen for Rs. 2,000 each, even as a large population in the region faced water scarcity.
Gopal Gurkhade, the Sabhapati of the Beed Municipal Council, reportedly struck a deal with India Today reporters disguised as businessmen to sell 36,000 litres of water every day for Rs. 6,000, purportedly for the construction of a factory. Gurkhade also offered protection from the police and power supply to the factory.
Panchayat officer Lakshmikant and Ghyasuddin Zuberi, who looks after the accounts of the tankers, apparently told the reporters the tankers would be delivered at night. Two other officials — Beed's Nayab Tehsildar Kama Kute and Beed Tehsildar Ashok Nandlangaonkar — also reportedly finalised a deal with the journalists to sell one tanker at Rs. 2,000.
Marathwada has been struggling for water as it has been hit by drought for the fourth time in the past five years. Each year the situation looks to have worsened as water levels in Marathwada dams were 10 percent in 2015, but this year it has only 2 percent with over a month left for monsoon to arrive, the Times of India reported.