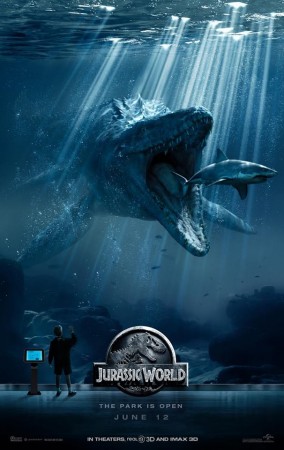 Colin Trevorrow's "Jurassic World", which hit theatres worldwide on 10 and 11 June, has not impressed critics with its plotline.
The fourth instalment in the "Jurassic Park" film series is one of the few movies that incorporates some of the nostalgic moments from the original movie and excels in using technology for special effects. But critics say it fails to deliver a fresh story to viewers.
The cast of the film include Chris Pratt, Bryce Dallas Howard, Irrfan Khan, Vincent D'Onofrio, Ty Simpkins, Nick Robinson, Omar Sy and B. D. Wong among others.
Here are reviews of "Jurassic World" from across the globe.
"Jurassic World" looks to be largely ignoring the previous two episodes as it attaches itself to tendrils hanging from the 1993 original. Amazingly, the film's hook seems to be nothing more engaging than a bigger, fiercer, genetically modified Tyrannosaurus rex. The dialogue isn't great, but the two lean so hard on the punchlines that they just about kick them into action.
"Jurassic World" feels like very thin stuff indeed. But, in truth, it probably fulfils the corporate requirements. All the story beats are in the right place. There's just enough violence. The skulduggery will do well enough.
The best spin-off from the first Jurassic Park movie wasn't its two lacklustre sequels, films that only wiped memories of the special effects wonders and suspense of Steven Spielberg's 1993 original. It delivered old fashioned thrills with fancy new gadgetry. The film does have fun with the legacy of the first film while acknowledging it needs to impress on a whole new scale.
"Jurassic World" just keeps on spinning and ricocheting and flipping until the game's over. And afterwards, there's just nothing much to remember it by.
In the run-up to the release of "Jurassic World", there has been a concerted attempt to convince cinema goers that the film isn't just another far-fetched summer blockbuster but is actually rooted in hard scientific fact. The filmmakers do their best with a well-nigh impossible task: namely to make Jurassic World both terrifying and family friendly.
It is theme park movie making which, in spite of its vast budget, has an engaging creakiness about it. Even seen in 3-D on the very biggest IMAX screen imaginable, "Jurassic World" is a glorified B-movie at heart, one that has its tongue firmly in its cheek.
The film is a scathing commentary on how corporate moneybags are running the game and it is especially scornful in a scene where toddlers are seen riding baby dinosaurs or when that most majestic of beasts, T Rex, is reduced to a performing monkey.
The underlying message of this self referencing film is: We are going to give you some CGI-filled mayhem which will be akin to Transformers-meets-Sharknado. Just don't blame us when shit hits the fan. The CGI falls eons short of Jurassic Park's realistic feel. It looks fake in places and forced in others.
With a formidable cast and storyline, striking effects, and just enough nostalgia to tickle your arm hairs, "Jurassic World" is just as fun as you'd hoped it would. Nobody's winning any Oscars, and the movie won't rewrite special effects like the original, but behind all the hype, it is a well-crafted addition to the franchise and well worth your money in what will be a haze of summer blockbusters.