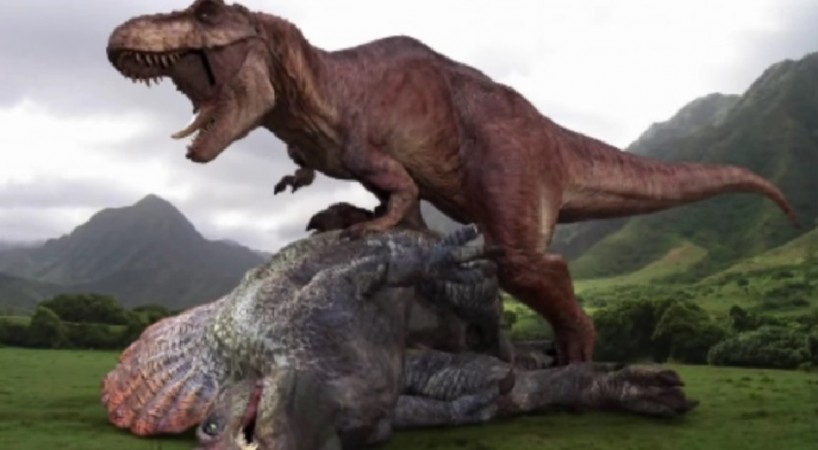 The official website of "Jurassic World" has introduced 18 types of dinosaurs, including the new hybrid raptor Indominus Rex. But leaked plot details suggest that the film will also feature the most powerful aquatic dinosaur Spinosaurus.
The 50-feet-long swimmer was part of the third installment of "Jurassic Park" series, which disappointed fans by conquering Tyrannosaurus Rex. But this time around, it is expected to target the new hybrid dinosaur.
Before the aquatic dinosaur meets Indominus Rex, it will have to defeat the popular T-Rex, which has been in the Isla Nublar Island for the last 22 years and could have received training from Owen Grady (Chris Pratt).
The leaked plot details uploaded by a YouTube user stated that "Jurassic World" is likely to have a battle sequence between Spinosaurus, T-Rex and Indominus Rex. However, the cast and crew of the dino-centric movie are yet to reveal details about the aquatic dinosaur.
Director Colin Trevorrow had recently said they are finding it hard to hold on to surprises till the release of the film.
"That's the thing about leaks, sometimes they aren't misinterpreted or false. They're real story elements that the filmmakers were hoping to introduce to the audience in a darkened movie theatre. But unfortunately, in 2014, you read about it on a computer," he told Slash Films.
Meanwhile, he revealed some details about Owen Grady and said, "Chris Pratt's character is doing behavioural research on the raptors. They aren't trained, they can't do tricks. He's just trying to figure out the limits of the relationship between these highly intelligent creatures and human beings. If people don't think there's potential in those ideas, maybe they won't like this movie. But I ask them to give it a chance."
"Jurassic World" is scheduled to hit screens on 12 June.