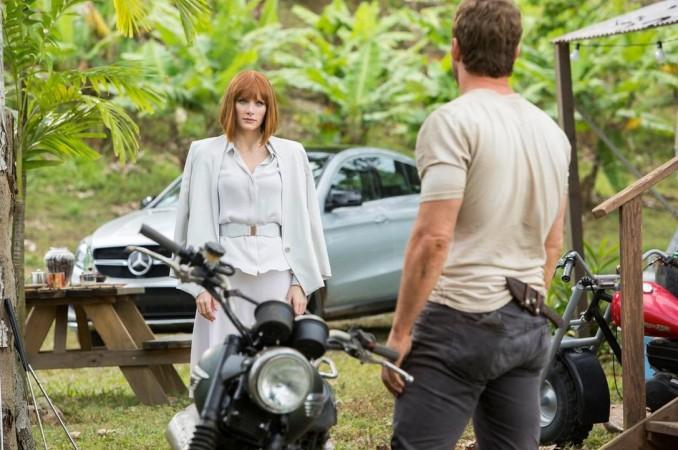 German automobile manufacturer Mercedes-Benz has once again teamed-up with the "Jurassic Park" franchise to unveil their latest GLE Coupe series on big screens.
This time around, the luxury car manufacturers will debut GLE 450 AMG Sport and GLE Coupe through the fourth sequel of the film series, titled "Jurassic World", according to Auto Blog.
"@JurassicPark fans to see the all-new #GLE in the upcoming #JurassicWorld movie. Hand over the popcorn!" tweeted the makers of Mercedes-Benz.
A few photos of the new luxury car were also uploaded on the Twitter page. In one of the images, director Colin Trevorrow and producer Frank Marshall are seen discussing on the various possibilities of featuring GLE Coupe in the upcoming movie.
Whereas, the other image is a scene from "Jurassic World" featuring Chris Pratt and Bryce Dallas Howard as Owen and Beth along with the latest version of Mercedes-Benz luxury series.
Previously, the automobile manufacturer unveiled its M-Class cars through the third movie from the "Jurassic Park" franchise "The Lost World" (1997).
Meanwhile, there are also speculations that the name of new hybrid dinosaur has been changed from D-Rex or Diabolus Rex to Indominus Rex.
It is also said to be a genetic cross between Velociraptor and Tyrannosaurus Rex, stated Nuke the Fridge.
As per the website, the scientists of "Jurassic World" have incorporated human DNA to the new hybrid dinosaur to include problem-solving intelligence to it.
However, the makers are tight-lipped on the details of the new hybrid dinosaur that they are planning to introduce in the new movie. So the fans of "Jurassic World" will have to wait until 12 June to know the details about the raptor.