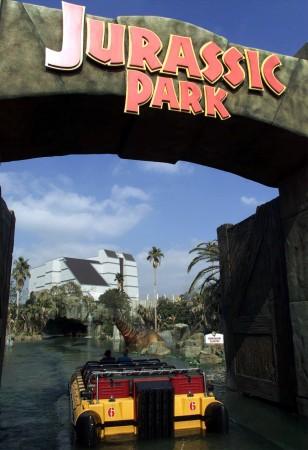 Fans of the 1993 hit movie "Jurassic Park" can now own a piece of Hollywood history, as props from the film have landed on ebay, an Internet website that facilitates buying and selling of goods.
The goods on sale include a full-size dinosaur and a dinosaur cage that were featured in the Steven Spielberg-directed movie. The auction has so far attracted a sum of $100,100.10 from 154 bids.
The seller of these goods is Theme Park Connection, an Orlando-based company specializing in selling movie memorabilia. Its manager Brian Ramsey said he was "blown away" by the interest shown from people around the world.
"We had no idea Jurassic Park had such a cult following," Ramsey told USA Today, adding that the majority of bids were from overseas.
The seller admits that the goods on sale show signs of wear, but it would make an "amazing restoration project."
"These treasures will benefit from some attention and TLC, so that future generations will be able to enjoy and marvel at this incredible piece of Hollywood History," the seller writes on the website.
Those interested in owning a piece of "Jurassic Park" can still bid for the items, as the sale is on till Feb. 4. But whoever buys them will have to handle travel to the seller's location, 45 minutes from Los Angeles, to collect them, as the size of the props makes delivery difficult.