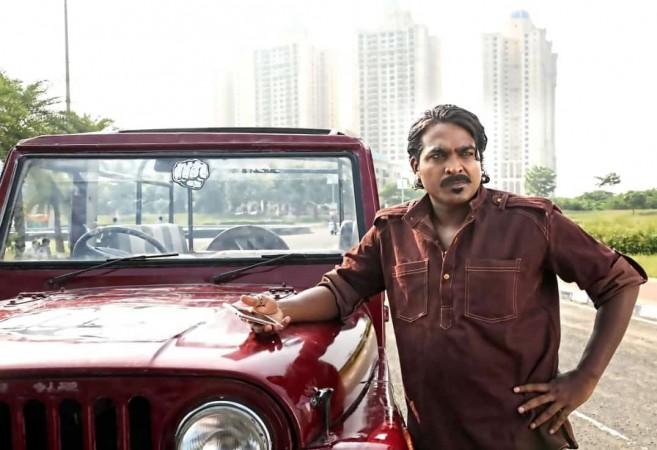 Kollywood actor Vijay Sethupathi is essaying the role of a gangster yet again after his two blockbusters movies Vikram Vedha and Soodhu Kavvum. In his latest flick Junga, Sethupathi is not just a don, whom we have seen in his earlier flicks, but a man with a menacing and goofy nature.
The 'Makkal Selvan' has collaborated with director Gokul, who has movies like Rowthiram and Kaashmora to his credits. Sayyeshaa and Madonna Sebastian play female leads in Junga, while Radha Ravi plays the role of an ageing don. Saranya Ponvannan acts as the hero's mother and comedian Yogi Babu plays the role of Junga's sidekick.
Siddharth Vipin has composed the music for the film. Songs like Koottippo Koodave and Rise of Don have really impressed the audience. Dudley and VJ Sabu Joseph are part of the technical side of the movie, handling cinematography and editing departments, respectively.
Junga Story: Junga (Vijay Sethupathi)'s father Ranga and Lingaa were gangsters (both roles played by Vijay himself. He walks on their footsteps to be become a don. His goal is to retrieve the movie hall, which his family pledge to Chettiyar (Suresh Menon).
When he meet Chettiyar to regain the movie theatre, Chettiar insults him. Hurt by his gesture, Junga now decides to kidnap his daughter played by Sayyeshaa. What follows next should be seen on-screen.
Average Ratings Given by Audience: 2.5
Reviews:
Audience say that the comedy portions works well although the story looks disjointed in places. Gokul has given importance to the comedy portions, production values, while story-screenplay have taken backseats. People are lauding the car sequence and Sayyeshaa's screen presence. Overall, it is called as a "stress-buster" and the movie can be easily watched once.
Find out their response below:
Sandhya Ram: #Junga 3.25/5 Loved this Quirky Don Entertainer totally. Nice watch with Family . @VijaySethuOffl Semma timing . Vjs . Saranya and Don Paatti semma cute . Whole theatre was laughing n clapping at Sathyamthrough out the film.
Manobala Vijayabalan: #Junga 3/5: Tried and tested script. Execution could have been better. 2nd half is not up to the mark. Overall a one time watch
One man show - #VijaySethupathi as a stringent Don moves it with mass screen presence.
#YogiBabu comedy tickles your funny bones.
@MadonnaSebast14 as a Telugu girl is refreshing.
#SureshMenon is powerful.
Beautiful @sayyeshaa comes 10 before the interval.
#Junga: #Thalapathy #Vijay's Ponmagal Vanthaal reference. Theatre erupts.
Sidhu: #Junga: References such as Poetu Dinesh, Duraisingam, Karuthanvanlaam Galeejam etc bring in the instant laughs, wished for more of them. The Lolikiriyaa number is an enjoyable one too!
#Junga: While the first half is kinda enjoyable, the second half flakes with many hollow scenes. Drug mafia, dons, cops, cons, chases - it's a half-cooked curry of it all.
Kaushik LM: #Junga 1st half - A typically wacky & unique style of Madcap comedy from @DirectorGokul. A good % of the jokes click. Fun!
#VijaySethupathi, #SaranyaPonvannan, #YogiBabu, #RadhaRavi (pakka Marlon Brando mimicking) make it work. Waiting for the 'darraagum' Paris.
#Junga 2nd half - The action happens in Paris in exotic locations. The huge budget, production value shows.
But the mafia - police - chases 'international action' angle seemed forced.. Feels long too..
Overall, a watchable comedy - action entertainer which! The Paati rocks!
Richard Mahesh R: #Junga overall a fun filled trademark #VijaySethupathi film. @DirectorGokul deserves special mention for his narrative style. All the characters are seen throughout the film adding humour to the best. No doubt! Decent hit movie. @sayyeshaa @iYogiBabu @sidvipin @VJSethupathi
#Junga first half unlimited fun. Nearly 90mins n time flies with engrossing moments. One liners n super body language and dialogue deliveries of #VijaySethupathi are major plus. #SaranyaPonvannan is reinvented with new humour avatar. @iYogiBabu is plus. @DirectorGokul @sidvipin
Prashanth Rangaswamy: Vijay sethupathi is a Kanja Don, So he refuses to go by bus/boat/train to Villains place and swims in -5 Degree Cold River to reach the destination, and then dries all his cloths on the banks of it. And this was intended to be super funny. #Junga
#Junga interval - Usual comedy ride with Director Gokuls tested formula. Okayish so far. Will wait for the second half .
Rajasekar: #Junga first half - a gangster spoof trolling the usual cliché. Vijay Sethupathi owns the film so far, #SaranyaPonvannan is too good. @sayyeshaa looks drop dead gorgeous.
Christopher Kanagaraj: #Junga - Another bad movie from Vijay Sethupathi this year ( after ONNPS). Sayeesha looks gud. Terrific perf from Saranya Ponvannan. Liked d songs. Dark 'comedy' ? Such a boring screenplay & scenes. Here & thr few laugh exists; thanks to yogi, remaining scenes r mere head ache.
Arif: #Junga finished!!! Comedy works well!!! VJ sethupathy steals the show as usual. Yogi babu , saranya , grandma chacters does well!! Illogical scenes, length, songs are minus. Over all one time watchable!!! Box office wise doubt in B&C centres.
poochipandi: #Junga watched overall movie is good & enjoyable once again directorgokul & vijaysethupathi rocks after itharkuthane aasaipattai balakumara tamilcinema unable to forget this #kanjadon
Arun T: @DirectorGokul #JUNGA - A super super super coollll entertainer.. Perfect stress buster and a weekend delight.. Don't miss... The film ends with the dailogue "JUNGA running #successfully jiii" and its TRUE!!!
Subramanya Surya: #Junga : Guaranteed repeat watch ! Worth your time & money !! No wonder @VijaySethuOffl decided to produce it himself. He is surely gonna be a super happy producer !!!Mark my word, the dialogues are doing to be part of regular convo going forward !! Forget your worries and LOL!
#Junga Interval : @VijaySethuOffl gets a quirky intro scene and the film takes off into a complete ROFL zone. Laugh a minute comedy so far. Seems to better #SoodhuKavvum in terms of quirkiness and dark comedy. Looking forward to second half in Paris.
#Junga Interval : So far it seems @DirectorGokul tops @csamudhan in spoofing mass hero films
Hastening to it, this is not a spoof genre though. It's pure dark comedy fun !!
@VijaySethuOffl in top form ! #YogiBabu perfect foil.
@sayyeshaa is ravishing!
Mersal Kannan: #Junga Review: 3.5/5 Be it the Bun sequence, combos with Saranya n Yogibabu or the funny yet massy moments sprinkled all over the film, #vijaysethupathi scores big . Gokul dialogs and the funny screenplay he has written huge plus . Don Paatti semma. PAISA VASOOL
Krithor: #JUNGA - A super super super coollll entertainer.. Perfect stress buster and a weekend delight.. Don't miss... The film ends with the dailogue "JUNGA running #successfully jiii" and its TRUE!!!