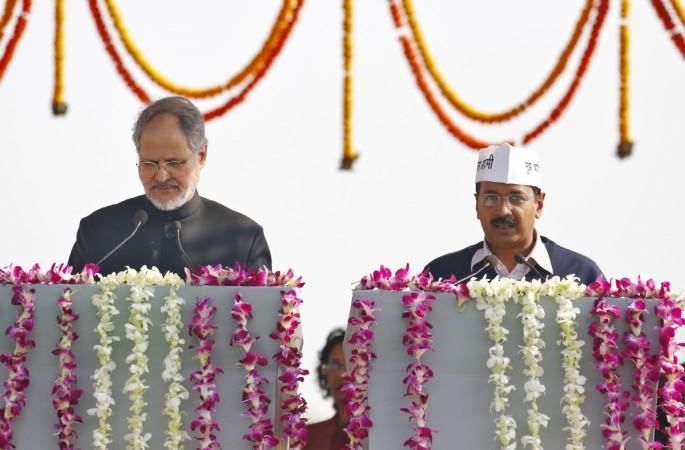 Lieutenant Governor Najeeb Jung on Wednesday cancelled all transfers and appointments done by the Delhi's Aam Aadmi Party (AAP) government this week.
Annulling the decisions of Chief Minister Arvind Kejriwal, the LG insisted that he was the sole authority in the matters of transfer and posting of bureaucrats in Delhi.
Jung wrote a letter to Kejriwal, challenging his government's order to bureaucrats not to follow his directives without securing the latter's approval or any of his ministerial colleagues.
The LG also challenged Kejriwal's instructions to the officials to not route files through his office, saying he has been vested with power to decide on key policy issues.
In his letter, the LG explained that constitutional provisions and norms laid down in the Government of NCT of Delhi Act and Transaction of Business Rules of Delhi Government and asked the AAP government to follow the rules and procedures.
Jung said the orders related to transfers and postings by the AAP government in the last four days were invalid as the decisions were not approved by him.
In a directive on Monday, Kejriwal had instructed the state's bureaucrats to first consult him or any other minister before acting on the LG's directions.
The LG's terse stand comes after Kejriwal's letter to Prime Minister Narendra Modi earlier in the day, asking him to let his "democratically elected government" work "independently."
The chief minister also accused the Centre of trying to run the Delhi government through Jung. In his letter to the prime minister, Kejriwal insisted that his government must have a say in distribution of work to senior officials.
The letter war comes a day after both Jung and Kejriwal met President Pranab Mukherjee separately and accused each other of violating the Constitution and overstepping their respective jurisdictions.
The controversy started last week, following the appointment of Shakuntala Gamlin as the acting chief secretary of Delhi as Kejriwal alleged that Jung was trying to take over the administration. Both the sides have since been appointing or transferring some top officials and declaring each other's decision as void.