Rating – 1
Cast – Raai Laxmi, Pankaj Tripathi, Ravi Kishan
Director – Deepak Shivdasani
Genre – Erotic Thriller
Storyline
South India's popular actress Raai Laxmi has hit the screens with her Bollywood debut film Julie 2. Presented by oh-so-sanskaari former CBFC chief Pahlaj Nihalani, this film will make you think why people waste money like it's nobody's business.
Directed by Deepak Shivdasani, Julie 2 is an erotic thriller that also features Rati Agnihotri, Aditya Srivastava, Ravi Kishen, Pankaj Tripathi and Nishikant Kamat, among others.
The story is twisted, confusing and with no sense of direction. A strong message – dark side of Bollywood's casting couch – was definitely touched upon but failed royally.
Raai Laxmi plays Julie, a small-town girl who has to deal with a lot of difficulties before making it big in the industry. There's murder, glamour, social message and sex – gone wrong.
The film's tag line – Bold, Beautiful and Blessed – has been murdered and how! 'Sabko Julie ka sharir chahiye lekin use sirf pyaar chahiye' (Everyone wants Julie's body but she only wants love) and more dialogues like these trigger splitting headache for the audience.
Julie is sleeping with everyone, which is called 'compromise' and is left in tears, as she gets dumped in the end. And then the lady is murdered in a robbery-gone-wrong. So, there's a murder to solve too.
Performances
Was Raai Laxmi looking sexy in the film? No. How did she act? Just about okay. Is she convincing? Hell no. Why is Raai Laxmi called blessed? Because she is Jesus Christ's child. Oh yes, that's what Rati Agnihotri (who plays Raai's Aunt) tells her and she believes because she is a 'najayad aulaad' and her heart has been broken by men quite a few times.
Sorry to say but even Jesus can't save this film!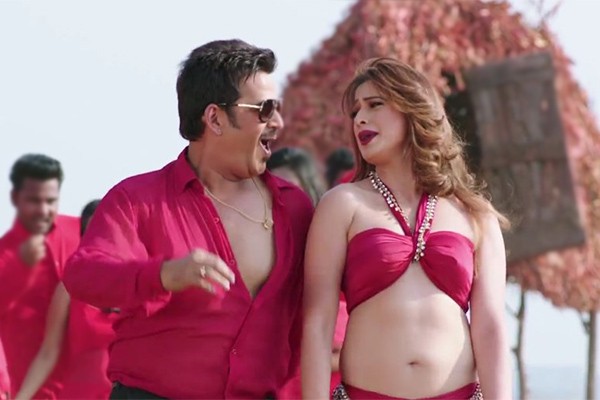 Raai Laxmi's spotboy is played by a beggar called Ambani. Like really? And then there's Ravi Kishen in the film who plays a south Indian superstar. Fine, that also we accept but what's wrong with Pankaj Tripathi – after giving us fabulous performances in Bareilly Ki Barfi, Newton and many others, how did he say yes to such a script?
There's CID's Abhijeet playing Inspector Devdutt (Adtiya Shrivastava), who we are guessing, is still in the CID hangover and has done a terrible job with dialogue delivery.
Positives
The only positive aspect about the film – Raai Laxmi, Ravi Kishen and Pankaj Tripathi made an effort with their acting, but the story and direction pulled their hard work down!
Negatives
The songs are vulgar, background music was just not fitting it. Talking about the direction, I wonder what was Mr. Shivdasani's obsession with close ups? And bad close ups! My head started spinning after a point of time.
Verdict
There's only one life you get, don't waste that precious time on Julie 2. Rather go watch Sanjay Mishra's Kadvi Hawa this week!