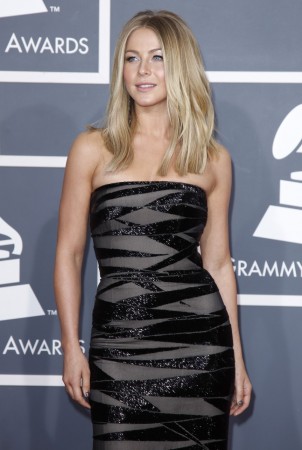 After being slammed for donning a "blackface" Halloween costume at a recent party, actress Julianne Hough took to her Twitter account to apologize to everyone who took offense in her costume.
At a Halloween party on Friday night, Julianne Hough dressed up in blackface, adding an orange jumpsuit and a name tag that read "Crazy Eyes," as a nod to the character on Netflix's "Orange is the New Black." Her costume was quick to grab the attention of many but not for the right reason. Many Twitter users condemned the actress for her "blackface" Halloween costume.
"No, Julianne Hough. Just NO. I can't believe 'blackface is not okay' is a conversation we still need to have," wrote user @danie_bagel.
Joan Duvall-Flynn, President of the Media Area Unit of NAACP of Pennsylvania, told FOX411 that Hough has some explaining to do.
"The current racial tensions in the United States require careful reflection as we relate to each other. If her behavior is a political statement, she should explain that," she said according to Fox News. "If her behavior is an act of impulsive insensitivity, she needs, as a public figure, to be more responsible. And, an apology for such insensitivity is appropriate."
However, Hough took to her Twitter account to apologize, saying she didn't mean to offend anyone with her costume.
"I am a huge fan of the show Orange Is the New Black, actress Uzo Aduba, and the character she has created," Hough Tweeted. "It certainly was never my intention to be disrespectful or demeaning to anyone in any way. I realize my costume hurt and offended people and I truly apologize."
Owing to her quick and sincere apology, crisis management expert Glenn Selig says this incident is not likely to hurt her brand value in the long-term.
"Julianne apologized for the costume and it appears as though she did not intend to offend anyone by dressing up that way. The reality is Julianne is too young to have lived through the ugly history of black face and Hollywood," he said. "That doesn't excuse it--she clearly should have known better--or someone around her should have. I don't see this single incident as causing any irreparable long term harm to her or her career."