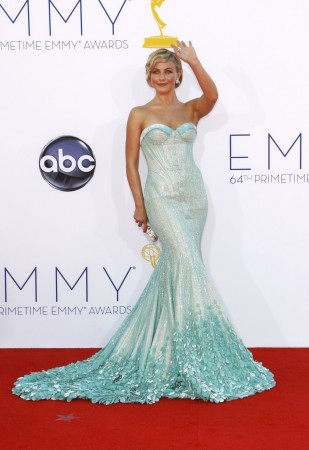 Julianne Hough and Ryan Seacrest separated a year ago. While the real reason for their separation was not known, recently, Hough opened up about the break-up suggesting that she was the one who pulled the plug, as she was not invested in the relationship.
"Every relationship, there was nothing wrong or bad, but there was nothing right. I had one foot out because I didn't want to get hurt. And I didn't say what was on my mind because I didn't want to ruffle any feathers," Hough told the Redbook Magazine.
Seacrest and Hough dated for three years. That time it was understood that the couple called it quits due to hectic schedule.
"But now I'm not holding anything back, because I'd rather get my heart broken than never know what it is to be completely, madly in love. If I had been this open in my last relationship, who knows?" she added.
Since her break-up, Hough has moved on with hockey player Brooks Laich. She also suggested that now she has adopted a new outlook towards relationship and this has helped her make her way through difficult times in the relationship.
"I had this epiphany when my family went to a six-day seminar (last November) about creating your own destiny," the actress noted. "I was not into it at first, but I learned so much about myself and why my relationships didn't work that by the end I was on a high. I was seeing a couple people, but immediately (pretends to text), 'You are nice, but this is going nowhere,'" she added about her changed outlook towards relationships.
Interestingly when Hough was in a relationship with Seacrest, she had said that it was a dream come true for her. She had at that time revealed that Seacrest was her first crush. It was also understood that time that the things that worked for Seacrest and Hough was their like-minded approach towards work.
"I'm a very anxious person. If I'm not working, I go crazy," she had told Glamour about her career, adding: "I've been lucky in my career. But if I lost everything tomorrow -- and had no money -- I would somehow make it work. I have that survivor mentality because of a lot of stuff that went on in a previous life. I feel like I've had four lives."