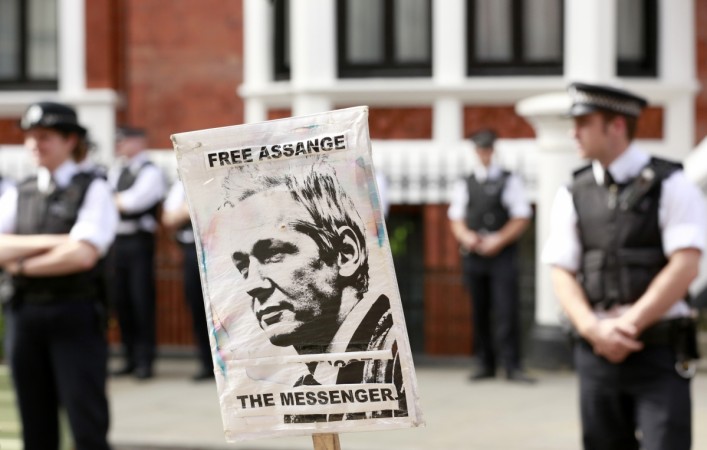 UPDATE 18:34 IST: Julian Assange said he had been vindicated by the UN panel ruling, appearing at a press briefing on Friday via videolink.
He called the UN decision a "really significant victory that has brought a smile to my face."

Original story:
WikiLeaks founder Julian Assange had been "arbitrarily detained" by both Sweden and Britain since his 2010 arrest and should be compensated by the two countries, a United Nations panel ruled on Friday. However, the British government has reportedly rejected the ruling.
Assange has been living within the walls of the Ecuadorian embassy in London since 2012, as the British police threatened to arrest him if he stepped on British soil. The Australian, accused of rape, has been threatened with extradition to Sweden to face the charges.
The UN's Working Group on Arbitrary Detention called on British and Swedish authorities to end Assange's "deprivation of liberty" in its ruling. Assange had said in a statement on Thursday that if the ruling came in his favour, he wanted arrest warrants against him to be dropped and his passport to be returned.
However, the British government rejected the UN ruling, BBC reported, and has said that it was obligated to arrest the WikiLeaks founder and extradite him to Sweden.
Assange was arrested in 2010 after a Swedish prosecutor began an investigation against him over allegations of sexual misconduct and, after ten days of imprisonment in a UK prison, he was put under house arrest in Britain for 550 days. Ecuador granted asylum to Assange and he moved into the country's embassy in London in August 2012.
Assange fears that if he is extradited to Sweden, he will be further extradited to the United States where he faces serious criminal charges for publishing secret US diplomatic cables.
The UN panel urged Sweden and Britain to "end Assange's deprivation of liberty, respect his physical integrity and freedom of movement, and afford him the right to compensation."
"The Working Group established that this detention violates Articles 9 and 10 of the Universal Declaration on Human Rights, and Articles 7, 9(1), 9(3), 9(4), 10 and 14 of the International Covenant on Civil and Political Rights," Seong-Phil Hong, head of the five-member panel, said.
Three members of the panel were in favour of Assange, as an Australian member recused herself while another member "disagreed with the position of the majority," the UN report said.