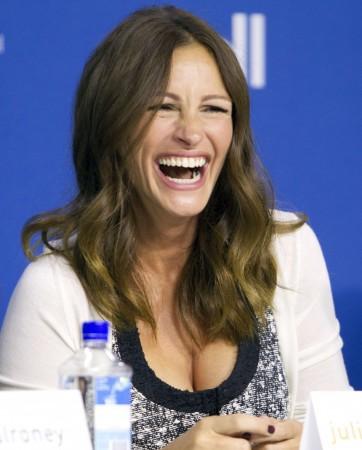 Julia Roberts is again hit by reports that her marriage with Danny Moder is in trouble. To top it off, a magazine has come up with claims that the Oscar-winning actress is leaning onto Richard Gere during this crisis.
According to OK! Australia, Julia is having a hard time in her personal life, and it is affecting her health. An alleged source said: "Julia broke down in his arms from the strain and exhaustion, and Richard was there to comfort her. Julia is absolutely miserable, and the word is, she just poured her heart out."
"Julia looks like she could collapse any minute. The first thing she needs to do is to get her health back on track," the insider added.
The source went on: "Richard has been encouraging her to put some weight on, and she's already taken his advice to heart. He'll still make time for her, no matter what."
However, the Eric Brockovich star seems to have dismissed the split reports by sharing a photo of herself on a beach embracing Danny. She captioned the image: "Oh Summer, thank you! You made us happy and brave. We embraced every moment of sun drenched JOY #familytime."
Adding on, Julia talked about the 49-year-old cinematographer, and the loved-up Instagram post, at the Toronto International Film Festival, while she promoted her new Amazon series Homecoming. She told Extra: "Well, you know what? He's an awesome human being. We have so much fun... I said to him — we were lying in bed — I go to him, 'Can I post this picture?' 'Cause that's a weird question. New to my lexicon. And he was like, 'Okay.'"
In 2015, Julia shared the secret to their happy marriage. She told Extra: "If we got to go to work together and go home together, all that work time, when you come home and 'Oh, honey, how was your day?' ... We did all that in the day and in the car," she explains. "So when we got home we got to put that all away, which was really delightful."