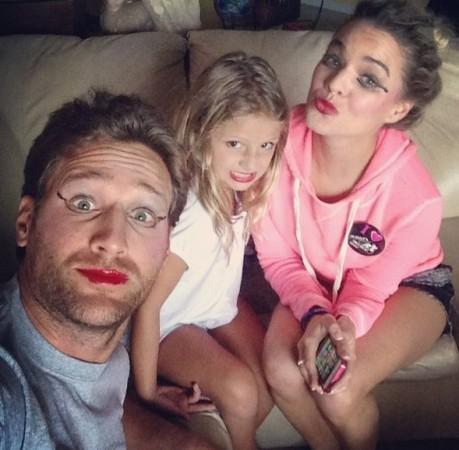 Contradictory to recent media reports, controversial "Bachelor" Juan Pablo Galavis and his girlfriend Nikki Ferrell are still an item. They declared this with an adorable photograph featuring Galavis' daughter, Camila.
"INTERESTING afternoon... #CirqueDuSoleilMakeUp," Galavis captioned the picture that shows him, Ferrell and Camila wearing bright red lipstick.
The photo was uploaded just hours before the season 10 finale of "The Bachelorette" aired on Monday, and many have questioned Galavis' timing.
Any other day, the photo would have been seen as a cute family snap, but HollywoodLife feels that Galavis was trying to send some sort of a message to Andi Dorfman by uploading the picture just hours before her season finale.
As fans of the dating reality show would recollect, Dorfman was one of Galavis' flames, before she decided to walk out of the show.
Meanwhile, the photo succeeded in putting to rest rumors of Ferrell breaking up with Galavis after he allegedly cheated on her with Ang Cottone.
"The last things Nikki wants is for Juan Pablo to cheat on her," a source told Life&Style magazine, according to Classicalite. "Something in her brain finally clicked, because instead of defending his actions like she normally would she's ready to confront him.
"Of course, it never does much good, because Juan Pablo never thinks he did anything wrong. So it's only a matter of time until she decides it's over between them."
However, a friend of the Venezuelan footballer dismissed the report as false, saying that although Galavis and Ferrell have their ups and downs, they are moving in the right direction.
"They haven't split," the friend told People. "Like every couple, they may have had ups and downs, but they're still very happy and moving in the right direction."
"I don't know why people want them to split up so badly," said Galavis's friend. "Some people just can't be happy for them. They've weathered a lot, and they're really in this for good."
Galavis and Ferrell's Twitter activity too shows that there is no trouble in paradise. Although they both live in different states, they manage to catch up whenever they get a break in their busy schedules, and the couple is not shy about giving fans a glimpse into their private lives.
Their Instagram accounts, too, have a number of snaps of them hanging out together.
The couple will next be seen in season five of VH1′s Couple's Therapy, which will premiere in September.