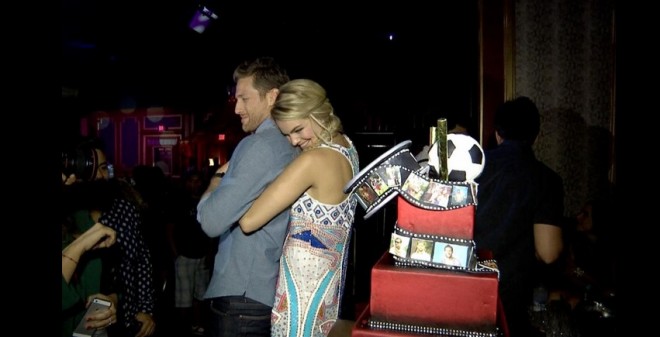 Controversial "Bachelor" Juan Pablo Galavis and his girlfriend Nikki Ferrell have managed to stay in news, thanks to the number of split rumours that grabbed headlines. Equally present were engagement rumours, which gained traction after Galavis and Ferrell were sported wearing rings that looked like engagement rings.
But the "Bachelor" star quashed these rumours during his 33rd birthday celebration in Miami last week, stating that they are not ready for marriage yet. Like any other relationship, Galavis admitted that they too have their ups and downs. However, they are also not ready to call it quits.
The loved up couple engaged in a lot of public display of affection during his birthday bash, and on the occasion Galavis gushed about his girlfriend, calling her smart and caring. He also said that he was looking forward to celebrating many more birthdays with her.
"I'm very happy and blessed to spend the first of many birthdays with Nikki," Galavis told People. "She's a wonderful woman – smart, caring, who treats my daughter amazingly well. She's the one who has to deal with this Latin guy, with a culture that she sometimes doesn't understand. She's been able to handle it well!"
Ferrell, on her part, added that she was having an amazing time with his family and friends.
"I had an amazing time with his family," Ferrell told People, "and I also got to meet so many of his friends. To think back to a year ago when he was announced as The Bachelor, and then to be here a year later with him; it all seems so surreal. I was really excited to be able to spend Juan's birthday with him here in Miami."
While Ferrell and Galavis are not yet ready to take the plunge, the former's best friend, Andi Dorfman, is already planning her big day. Dorfman, who is engaged to "The Bachelorette" season 10 winner, Josh Murray, has vowed not to invite Galavis to her wedding, unless he marries her friend.
"I don't think he's gonna be invited to my wedding. Um, yeah—just gonna be a soft 'No' for now," Dorfman told Us Weekly. "Unless he marries Nikki, then by default, which he knows about, he'll come to the wedding."