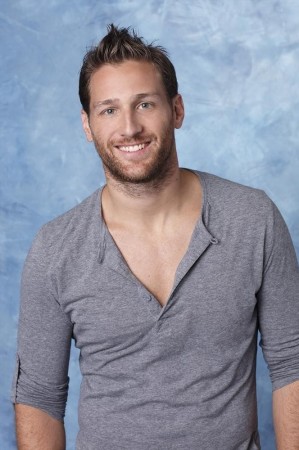 Juan Pablo Galavis, the star of Season 18 of "The Bachelor," has expressed an interest in dating JoJo Fletcher, who was recently announced as the new "Bachelorette."
Taking to Twitter, the single dad even expressed a desire to return to the dating reality show to get a chance to know Fletcher better.
"I have READ so MANY good things about JoJo in the past WEEKS that if she is the NEXT bachelorette, I MIGHT have to sign up AGAIN..." the 34-year-old tweeted Monday night. "I am #TeamJoJo and I have only SEEN her in like 20 pictures on my TWITTER... #SheCute," he added.
Fans of Fletcher are not on board with this idea. Here are a few gems from Twitter.
@JuanPaGalavis please don't we already had to witness you being the worst Bachelor ever.

— Kara (@KRCforWEEZY) March 15, 2016
@CatieSchultz15 I don't think I could handle that train wreck again! #flashback — Vivian Herrera (@vivian_herrera) March 15, 2016
@JuanPaGalavis America would appreciate it if you didn't.

— Emma Hammontree (@emmalbing) March 15, 2016
@JuanPaGalavis I don't think you could ever love a woman because your heart is so full of loving yourself! Do NOT torture us by coming back! — Alexandra (@Koukla39) March 15, 2016
Galavis, an American-born Venezuelan former professional soccer player, is considered the worst bachelor in the history of the show. Throughout Season 18, he drew a lot of flak for being insensitive to the feelings of the other contestants and his disrepute only increased when he failed to propose marriage or even say "I love you" to his final choice – Nikki Ferrell.
Galavis and Ferrell split in November 2014, a few months after their season finale. Confirming their split Ferrell told Life & Style that the relationship wasn't working out for them even though they were in love with each other.
"I love him so much, and I know he feels the same way about me. There would have to be a lot of compromising and sacrifices on both of our parts for it to work. Who knows what the future holds, but at this point in our lives, it's not working for either one of us," he said, according to E!Online.