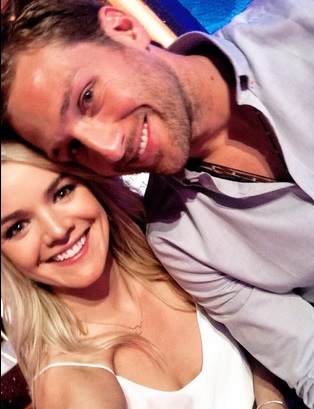 Juan Pablo Galavis, the controversial star of "The Bachelor" season 18, discussed his marriage plans with a fan on Twitter recently, sparking speculations that he might be getting ready to walk down the aisle with girlfriend Nikki Ferrell.
When Galavis chose Ferrell as his partner on the dating reality show, he refused to say whether he loved her, and this prompted many to predict their relationship would not end up in marriage.
But when a fan recently asked him where he would like to get married, Galavis said his ideal wedding destination would be Venezuela.
Although he did not explicitly say that he is ready to propose to Ferrell, the couple's recent Twitter posts provide ample evidence of them planning to settle down.
Last month, Galavis posted a Twitter picture of a girl's hand with a ring on her engagement finger, and many fans were quick to believe that he has already proposed to Ferrell. Although the ring is absent in a following picture of Ferrell's, Galavis once again raised the hopes of fans, when he declared his intention to make Ferrell a Venezuelan.
Check out the tweets below:
Trying to TURN @Nikki_Ferrell into a VENEZUELAN by feeding HER Tequeños and Cachapas at @Budare_Bistro pic.twitter.com/k3GOPEJHmH.

— Juan Pablo Galavis™ (@JuanPaGalavis) June 17, 2014.
PERFECT night... She is CHECKING on the players and she HAS her favorites... pic.twitter.com/xE9pq91POw — Juan Pablo Galavis™ (@JuanPaGalavis) June 19, 2014.
Ever since season 18 of the Bachelor ended early this year, the couple has been dogged by cheating rumors, and Galavis' refusal to say whether he has professed his love to her only aided these reports.
"I'm not going to answer that question,' he told "The Bachelor" host Chris Harrison. "People don't understand that this is real life... We are happy we had the opportunity," he added during the After The Final Rose Special, which aired on March 10.
But in April, he tweeted that one of the things he loves about Ferrell is her love for her work.
"@Nikki_Ferrell LOVES her JOB and that's ONE of the things I LOVE about her..." Galavis wrote alongside a photo of Ferrell in her work uniform.
He also posted an image of Ferrell and him outside Las Vegas' Forever Grand wedding chapel in formal wear, with Galavis in a suit and Ferrell in a long red dress.
Mi Catira @Nikki_Ferrell LOVES her job and thats ONE of the things I LOVE about her... #NikkiTheNurse pic.twitter.com/s9iXiIsgyX.

— Juan Pablo Galavis™ (@JuanPaGalavis) April 10, 2014.