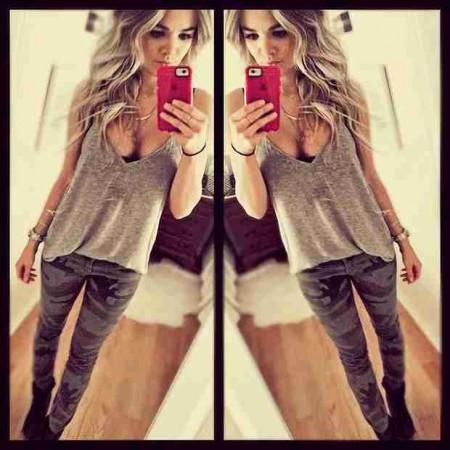 Nikki Ferrell, the paediatric nurse who won Juan Pablo Galavis' season of "The Bachelor", has once again sparked speculations of going under the knife for a possible boob job after she posted online a picture of her flaunting a cleavage.
Ferrell first sparked boob job rumours during a red carpet appearance early this year, where her visibly larger chest attracted viewers' attention. Although she has refrained from commenting whether rumours of a breast augmentation surgery are true, the reality show star's latest Instagram post gave people further proof that she had surgery.
In the photo, Ferrell is seen standing in front of a mirror wearing a grey tank top that reveals ample cleavage.
Meanwhile, spoiler guru Reality Steve commented about Ferrell's alleged boob job in his blog, writing: "Yeah, I'd say Nikki's have been enhanced. By about 100 sizes. Yes, Nikki got a boob job after filming 'Couples Therapy'. This is just the first time she's really let the puppies out. And boy did she ever."
During Ferrell's appearance on "Couples Therapy", she tried to make her relationship with Galavis work, but they decided to part ways a short while later, realising they weren't meant for each other.
"There was a while where I did feel like he was totally in love with me. Was it too late? Probably," she said, according to E!News. "I think at that point I had come to the conclusion that we were different people and we were never going to be on the same page."
But they tried their best to make the relationship work, added Ferrell. "I wasn't going to quit. I'm not a quitter. I tried everything, he tried, too. It wasn't just a one-side thing....we real-life tried, not TV-tried."
But their different lifestyles and the difficulty to maintain a long distance relationship – Ferrell is based in Kansas City and Galavis lives in Miami -- prompted them to go their different ways.