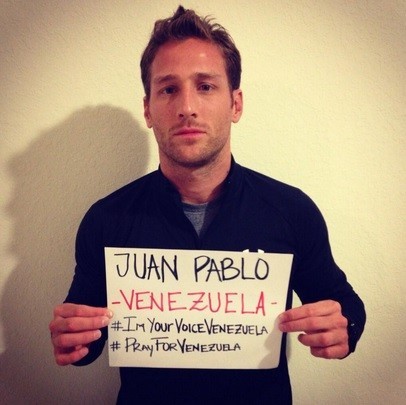 Juan Pablo Galavis might be one of the most controversial "The Bachelor" contestants in the history of the show, and he proved it on Thursday by retweeting a joke about mentally handicapped people.
The message that Galavis decided to share with his followers has since been deleted, but not before it attracted the attention of the public.
"Not every flower can save love, but a rose can. Not every plant survives thirst, but a cactus can. Not every r-----d can read, but look at you go, little buddy!" the message read.
"Today you should take a moment and send an encouraging message to a f--ked up friend, just as I've done. I don't care if you lick windows, or interfere with farm animals."
"You hang in there cup cake, you're f--king special to me, you're my friend, look at you smiling at your phone! You crayon eating bastard you!"
Besides retweeting the message, Galavis also added "JAJAJAJAJA LOVED IT..." along with it. And, once criticism started to pour in, he attempted to defend the joke with a series of messages claiming that his English was weak.
I'm BLESSED to speak SPANISH, an OK english and a LITTLE bit of portuguese... For those who DON'T I recommend to LEARN... #Culture

— Juan Pablo Galavis™ (@JuanPaGalavis) March 6, 2014
Yeap, an OK english, my WRITING is HORRIBLE but some of you already UNDESTAND me with all my MISTAKES...
(Edited by Vanilla Sharma)