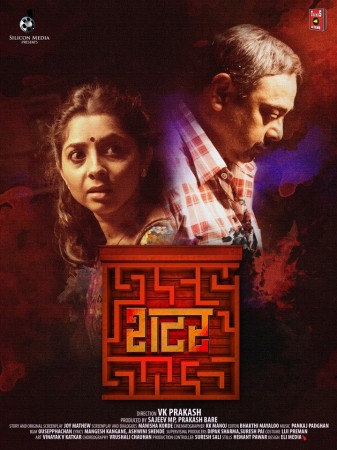 Joy Mathew directorial "Shutter" is now remade in Marathi. With this, the Lal starrer becomes the first Malayalam film to be remade in Marathi, and will have the same title.
"Shutter" is a family entertainer as well as a suspense thriller and a social satire film. The Marathi version has Sachin Khedekar and Sonalee Kulkarni in the lead and will be directed by V. K. Prakash.
Prakash is well known for his films, music videos and commercials. His first film as a director was "Punaradhivasam" (2000), which won him the National Film Award for the Best Feature Film in Malayalam, Kerala State Film Award for best Debut Director and Best Story. He has done many other hit films in Malayalam, Telugu, Kannada and Hindi, including Phir Kabhi (2009), "Beautiful" (2011), "Trivandrum Lodge" (2012) among others. "Shutter" is his debut in Marathi.
The Malayalam film "Shutter" (2012) was written and directed by Joy Mathew. Set in Kozhikode, the film had Lal, Sreenivasan, Vinay Forrt, Sajitha Madathil and Riya Shutter in the lead roles. It was considered as one of the finest films of the year.
Like the original version, the Marathi film, "Shutter" also revolves around an unexpected incident that happens in the life of an oversees returned, middle class family man, Jitya Bahu (Sachin Khedekar). The film is set in a small village in Maharashtra and show incidents that are happening in two days of his life.
The film then goes through a gripping account of how a moment of weakness traps Jithya with a prostitute (Sonalee Kulkarni) in a stuffy, empty shop room right in front of his house and how the subsequent tense moments transform their life forever. The 24 hours inside the room change the personal equation between them.
The film also has interwoven the parallel stories of a struggling film director and an innocent autorikshaw driver and how their lives are intertwined in a day, even though they are not aware of it.
Marathi "Shutter" also has Amey Wagh, Prakash Bare, Jaywant Wadkar, Radhika Harshe, Kaumudi Walokar, Kamlesh Sawant and Anirudh Hariip in pivotal roles.
Originally, written by Joy Mathew, the Marathi version's screenplay and dialogues are done by Manish Korde, while the film is produced by Prakash Bare and Sajeev M. P.