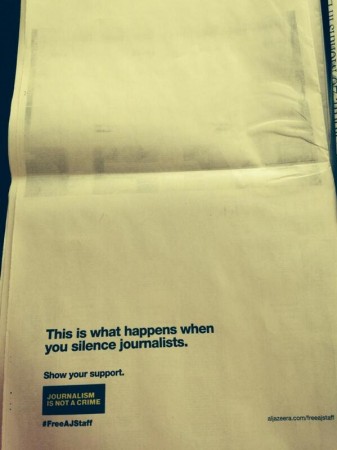 Internet users have flocked microblogging site Twitter in huge numbers, lashing out at the verdict by an Egyptian court which pronounced three journalists from Al-Jazeera English as guilty of aiding blacklisted group Muslim Brotherhood and reporting false news.
The verdict, delivered by a judge in Cairo on Monday, found Peter Greste, Mohamed Fahmy and Baher Mohamed who have been working for the Qatar-based news channel in Egypt, guilty of the charges.
Two of the three journalists were sentenced to seven years in jail, while the third was sentenced to 10 years.
Here are a few strong messages on Twitter against the verdict.
'Utter Shock, Disgrace'
A miscarriage of Justice as our colleagues are sentenced to seven years in jail in Egypt.#freeajs Speechless #FreeAJStaff

— Moadow (@Moadow) June 23, 2014
An utter disgrace #Egypt. An utter disgrace #AJTrial — Mona Eltahawy (@monaeltahawy) June 23, 2014
Egypt. What have you done. #FreeAJStaff

— Wayne Hay (@wayne_hay) June 23, 2014
The word is: seven years in jail for the AJE3, 10 years for those in absentia. Absolutely disgraceful. #AJTrial — Kamahl Santamaria (@KamahlAJE) June 23, 2014
I have no words right now. Just appalled. #FreeAJStaff

— Nazanine Moshiri (@nazaninemoshiri) June 23, 2014
'Journalism is Not a Crime'
A reminder: Journalism is not a crime http://t.co/FoV8aWoucZ #FreeAJStaff pic.twitter.com/rApCpxZLq7 #AJTrial — ARTICLE 19 (@article19org) June 23, 2014
#FreeAJStaff because telling people what's really happening is not a crime. Because uncovering the truth shouldn't be punished.

— GEseO3. (@destroytoremake) June 23, 2014
Any government that believes in press freedom, and has military or aid links with #Egypt, should sever those links immediately #FreeAJStaff — Simon Robson (@simonrobson7) June 23, 2014
Sentencing of Al Jazeera 3 is an assault on all journalists. Vital that Egypt understands it has made itself a pariah #FreeAJStaff

— Robert Peston (@Peston) June 23, 2014
Journalism is not a Crime. #FreeAJStaff #Egypt pic.twitter.com/55kt0epMDO — Ceyhun Mamedov (@ceyhun_m) June 23, 2014
#Egypt is now the next #Guantanamo Bay destination by today's judgement on #FreeAJStaff @AJEnglish @YvonneNdege

— Tife Owolabi (@Tifeowolabi) June 23, 2014
Appalling: Egypt sends 3 Al Jazeera journalists to prison for 7 years for committing journalism http://t.co/c8D70N1j6Y #FreeAJStaff — Nicholas Kristof (@NickKristof) June 23, 2014
#freeajstaff was extremely and immensely shocked by the verdict,dark day for the media indeed,this is outrageous

— Chinemo Elias (@EliasChinemo) June 23, 2014
I'm speechless, and absolutely devastated. I just can't believe they won't come out. #FreeAJStaff — Delna (@delna_24) June 23, 2014
Jailed for journalism: Unimaginable, yet real. #FreeAJStaff

— Abhishek Patil (@paidlukkha) June 23, 2014
I'm appalled by this verdict. Journalism is not a crime. Greste #PeterGreste , Fahmy and Mohammed must simply be released. #FreeAJStaff — Carola Frentzen (@CarolaFrentzen) June 23, 2014
UN HR Chief condemns sentencing of Aljazeera journalists & Amnesty calls it "dark day for media freedom" #freeajstaff #journalismisnotacrime

— Yasmine El-Sabawi (@yasmineelsabawi) June 23, 2014
US funding a dictatorship that steps on freedom of the press - Thomas Jefferson is probably turning in his grave. #FreeAJStaff — Aishwarya Raj (@AishwaryaRaj5) June 23, 2014
#FreeAJStaff pic.twitter.com/R35isiirwu

— Lizzie. (@lizziehannah_x) June 23, 2014
Come on bomber faithful let's use our voice.#FreeAJStaff we need a boycott of Egypt remove their officials from our country #FreeAJStaff — Ally (@allycat0518) June 23, 2014