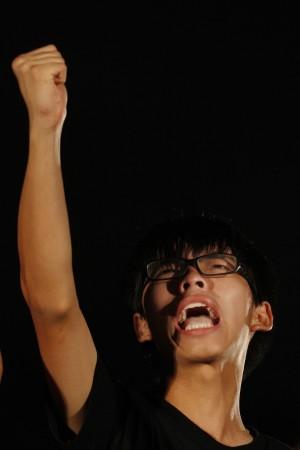 He is thin, looks frail and is not even old enough to drive in his city. But the boy runs a pro-democracy youth movement of 120,000 members and is determined to ignite a wave of civil disobedience among Hong Kong's students so that China ultimately yields to their demands to have full universal suffrage for Hong Kong.
Meet young Joshua Wong, referred to as the "extremist" by China's state-run media, whose skinny, and small physical frame are deceptive. Behind the meek-looking face, lies a ferocious fighter with a strong political opinion and strength.
The student has built a pro-democracy youth movement in Hong Kong that according to some Chinese citizens is as significant as the student protests at Tiananmen, which took place 25 years ago. And he reportedly did this all on his own.
The college freshman, Wong, skipped his campus tour last month to conduct an orientation of his own and led hundreds of young people to march for democracy in Hong Kong.
The young churchgoer is among thousands of students boycotting classes to protest an electoral proposal from Beijing, which they say doesn't grant them genuine election.
"Universal suffrage is the mission of this era and this era belongs to the young people, so let the young ones complete the mission," Wong, founder of student activist group Scholarism, told Bloomberg. "Young people will always be the pioneers."
Wong's leadership and his movements is an outburst of years of frustration heaped from series of 'broken promises' from Chinese government in Hong Kong.
When the city was returned to Chinese rule from the British colony, the two countries had agreed for high degrees of autonomy for Hong Kong, including the democratic election of its own leader, but 17-years later little change has occurred in the city. According to China's latest proposal, Hong Kong citizens can vote for their next leader, but they must be candidates approved by Beijing, a clause that has disappointed many.
Wong is determined to fight against the proposal and hopes his group would one day, win.
"I don't think our battle is going to be very long," he told CNN.
"If you have the mentality that striving for democracy is a long, drawn-out war and you take it slowly, you will never achieve it.
"You have to see every battle as possibly the final battle – only then will you have the determination to fight."