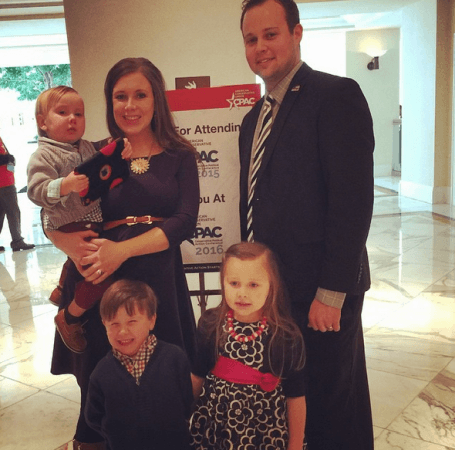 Josh Duggar's sexual abuse scandal is refusing to die down as a new report claims that the "19 Kids and Counting" star has abused several more women than previously revealed.
Josh was initially accused of molesting five minors, including his sisters, as a teen. But according to a recent Radar Online report, a convicted paedophile has alleged that he was framed for a crime that was actually committed by Josh.
Joseph Uber, who filed a writ of habeas corpus against Josh and the Texas Department of Corrections, has claimed that he has DNA proof against Josh.
"I am illegally incarcerated for a sex crime of a minor. I didn't do it. Defendant Josh Duggar is responsible, and set me up," Uber's petition, obtained by Radar Online, states.
In it, Uber claims that he spent five years in jail for a crime that was originally committed by Josh, and that the "19 Kids and Counting" star was a paedophile.
"Josh Duggar is a paedophile, not me. He planted my fingerprints on my victim. I have Josh Duggar's DNA saved on underwear," Uber claims.
The petitioner even alleges that Josh works for Warren Jeffs, a former president of the Fundamentalist Church of Jesus Christ of Latter-Day Saints.
"Josh Duggar works under direct orders from Warren Jeffs," Uber stated in his petition.
"Josh Duggar molested the Slenderman girls in Wisconsin … Josh Duggar threw Baby Jessica in my well. Josh Duggar hurt Chandra Levy. Josh Duggar was pen pals with Elizabeth Smart. … Josh Duggar knows what happened to Jon Benet Ramsey."
The lawsuit, which was filed on 1 June, was dismissed a few days later as it proved to be "fantastical and delusional", Radar stated.
Soon after Josh's dark past came to light last month, the "19 Kids and Counting" star as well as his parents Michelle and Jim Bob Duggar released statements reiterating Josh was now a changed man and that he regretted his transgressions as a teenager.
His sisters Jill and Jessa, who were abused by their brother, have also forgiven Josh for his mistake, the family said in a televised interview.