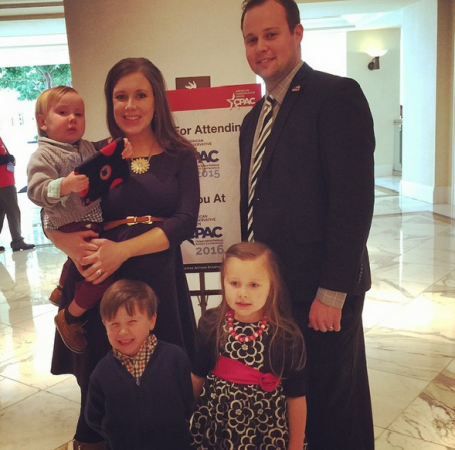 The Duggar family has once again come under fire after a media report noted that their eldest, Josh Duggar, molested five minors as a teen.
This shocking news was revealed by In Touch magazine, and the report noted that "19 Kids and Counting" stars Jim Bob Duggar and Michelle brought their eldest son Josh to the Children's Safety Center in Springdale, Ark., in 2006 to be interviewed after minors accused him of sexually abusing them.
On Thursday, Josh released a statement to People magazine admitting to the offence, and added that he regretted his inexcusable behaviour.
"Twelve years ago, as a young teenager, I acted inexcusably for which I am extremely sorry and deeply regret," the 27-year-old who is expecting his fourth child with wife Anna Duggar said.
"I hurt others, including my family and close friends. I confessed this to my parents who took several steps to help me address the situation. We spoke with the authorities where I confessed my wrongdoing, and my parents arranged for me and those affected by my actions to receive counseling. I understood that if I continued down this wrong road that I would end up ruining my life."
Josh's wife Anna too spoke about the incident, saying her husband had confessed his dark past before they were engaged. She said she too was shocked when Josh initially confessed to his teenage mistake, but his humility and openness convinced her that he wanted to do what was right.
"When my family and I first visited the Duggar home, Josh shared his past teenage mistakes. I was surprised at his openness and humility and at the same time didn't know why he was sharing it," Anna said. "For Josh, he wanted not just me but my parents to know who he really was—even every difficult past mistakes."
"He continued to do what he was taught. [I know] who Josh really is—someone who had gone down a wrong path and had humbled himself before God and those whom he had offended. Someone who had received the help needed to change the direction of his life and do what is right," she said.