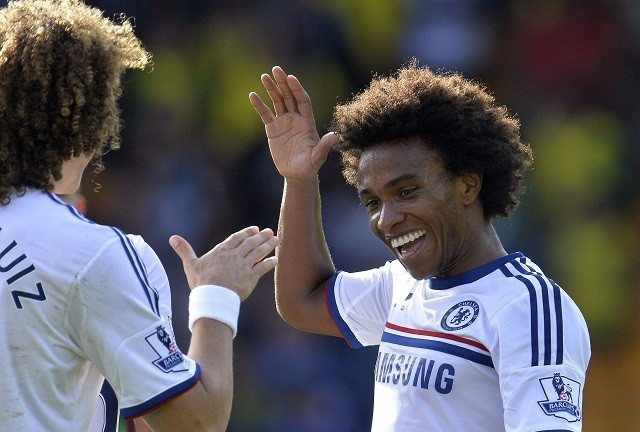 Jose Mourinho said he could "smell" a Norwich goal that would put the cat amongst the Chelsea pigeons while admitting to being relieved to see his substitutions bear fruit in a tense 3-1 win in the English Premier League on Sunday.
Anthony Pilkington scored for Norwich in the second half to cancel out Oscar's early opener, with the Canaries then looking like the more likely side to go out and take all three points at Carrow Road.
However, Mourinho made a few attacking substitution, bringing on Eden Hazard and Willian, with both players then going on to score in the space of a minute to lift their side past Norwich.
"If the substitutes come in and they change the game, the manager did very well. If they come in and they make it worse, the manager made a very bad decision. In the end I always think it is their responsibility," Mourinho said.
"The situation became difficult at 1-1. We all knew that a point here would be a bad result for us. The whole team, not just the boys that came on, and they coped well with that pressure.
"Without losing totally the balance, we could risk a bit and try to bring to the game different things to see if Norwich could cope with that.
"I had to go with what I did. I had to put (Samuel) Eto'o, Hazard and Willian on, all three at the same time.
"We could win, we could lose. At that moment we didn't want the point, we played with three guys at the back with (Andre) Schurrle open, Eden central to make three quick strikers.
"We lost a bit of balance to try to gamble and create. We left the road a bit open for Norwich too. If they scored a second goal, probably we lose. We are trying to be top so after one point at Tottenham, one point here today (Sunday) would be a bad result, so we tried to win."
Ba had a chance to make the game safe early in the second half, and when that opportunity went begging, Mourinho said he could "smell" a Norwich equaliser.
"I think he (Ba) has to score that goal in the first minute of the second half," Mourinho said. "Put the ball in, 2-0, go home and no heart attack.
"After you don't score, you leave the door open for them. They score a goal and you are in trouble.
"During the game I'm not nervous but I have feelings, I smell things. When I saw that easy goal missed I had a smell. I smelled that Norwich would score a goal. That's why I put Hazard warming up even with the 1-0 score."
Mourinho also had a few words of praise for Willian, who scored his first Chelsea goal with a wonderful left-footed strike.
"It's good for the boy," the Portuguese said of the Brazilian summer signing. "It's difficult to arrive at the club when we had started the season already, and it's difficult to come from a league where normally a player loses a little bit of ambition, sharpness and condition. So step by step he's getting there."