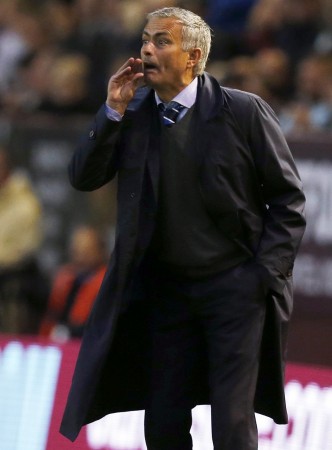 Chelsea manager Jose Mourinho says that he is open to managing another Premier League club if he gets sacked by the Blues.
After finishing the 2013/14 season without a single piece of silverware, the Blues have made a strong start to the new campaign, sitting at the top of the Premier League, with five wins in six fixtures.
Despite the good start, Mourinho, who achieved so much success during his first spell (2004-2007) at Stamford Bridge, knows that he will be shown the door if he fails to deliver trophies this season.
Due to this reason, the "Special One", despite claiming that he will "only leave" if he gets sacked by Blues owner Roman Abramovich, has indicated that he will be open to moving to another Premier League club.
"If it had to be, yes," replied Mourinho, according to Goal, when asked if he would be open to managing other Premier League club.
However, he quickly added that his first priority will always be Chelsea.
"But my priority will always be Chelsea and never think about the interest of others. I know football and know I won't be here five, eight, 10 years if I don't manage to win. Of course not.
"When I have to think about the matter then we'll see," said Mourinho adding that this time he has come to Stamford Bridge with the aim of staying for many years. "The difference is that last time I didn't have the aim of staying many, many years. Now I'll stay as long as they want me to. I really am the happy one.
"Last time [at Chelsea] it was different because even though I was heart and soul in the project I was leading, I always asked myself 'which will be the next one?' Now it's the first time I don't think about it."
Meanwhile, Mourinho will be travelling to Sporting Lisbon for the first time since he worked at the club as a part of Sir Bobby Robson's backroom staff from 1992 to 1993.
The 51-year-old says that he only has good memories at Sporting, except the time when he learnt that the club were going to sack Robson.
"I have the best memories of Sporting. I only had one bad one, which was the day we learned Sporting was going to dispense with the services of manager Bobby Robson," Mourinho said.
"It was a project in which people had their heart and soul and the manager felt they could become champions.
"I was the do-it-all boy, willing to help. He had a nice group who believed it was possible to win the league. It wasn't. But that's part of football."