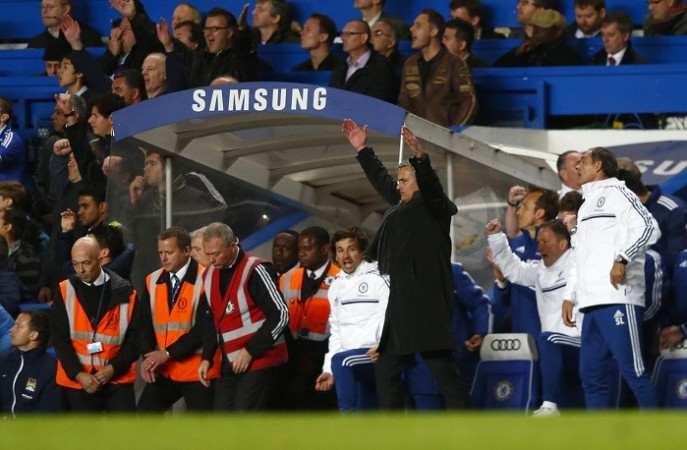 Jose Mourinho felt Chelsea saw off a tornado-like Manchester City team in the English Premier League on Sunday.
Fernando Torres scored the winner in the 90th minute, off a catastrophic mix-up between Joe Hart and Matija Nastasic, to hand Chelsea a dramatic 2-1 victory over their title rivals, a three points which could yet prove vital when it comes to deciding the standings at the end of the season.
"First of all, I feel sympathy with them because I know how it is to lose in the last minute," Mourinho said. "It's a very difficult feeling, but of course it's a great moment for us. In the first half we played fantastic against a fantastic team, which isn't easy. We were better than them which isn't easy. We could have scored three goals in the first half, we were dominant, we played well, we played beautiful.
"In the second half we played against a great team, with a tornado arriving, the wind was very strong against us and pushed us back. They scored a goal and after that the game was 50-50, it could go one way or another.
"When everybody was expecting a draw, even ourselves, I tried to play Samuel (Eto'o) and give a bit more but I didn't want to risk too much. It was the kind of game that you wanted to win but you didn't want to lose, because if you lose it you lose points against a title contender, so I wanted to take a risk but with balance.
"They didn't want to either because they changed a striker for a striker and put (Aleksandr) Kolarov in midfield, they were happy with a point. The goal comes through a very intelligent action by Fernando. It was a misunderstanding between Joe Hart and Nastastic but Fernando was very clever with the way he did it."
The City bench were not amused by Mourinho's celebrations after the late winner, with the Portuguese flying over to the away team's dugout and hugging the fans behind the bench. Mourinho insisted he did not mean any offence, and was just celebrating with his son, who was sitting in the front row behind City's dugout.
"Look, I think Chelsea is guilty because I want to buy a season ticket for my son, and they give them a season ticket behind the away dug-out. They have to change it. I went for him, I promise. Next match you will see him there again. This is the drama of the last minute. Last year I beat Manchester City in the last minute with Real Madrid, I slid on my knees and destroyed my trousers.
"I lost in the last minute against Bayern Munich and it felt like somebody had put a knife in my back and I didn't see them. This is the emotion of the game, if they believe my son is there, great. If they don't believe that I apologise."
Torres was in inspired form for Chelsea, setting up Andre Schurrle for the opening goal, while also seeing a stunning solo effort come crashing off the woodwork.
"It was a fantastic performance and even better because there was an easy chance missed and that makes it even more valuable because many times when a striker misses an easy chance he is affected for the rest of the game," Mourinho said of Torres.
"That was the moment when he decided he would be the man of the match. The fans were amazing and supported him a lot, they see the way he works for the team, he's sharp and powerful and we were happy for him.
"We are all happy because it's a very important victory against a team we couldn't beat last year, we played against them lots of times, even in friendlies, and couldn't beat them. In the first half we played so well against a good team."