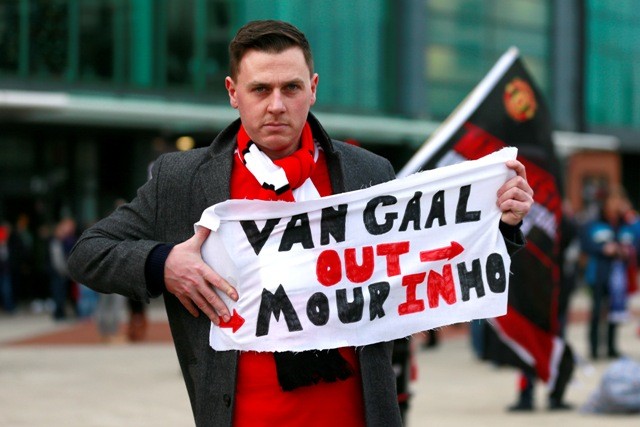 Will Jose Mourinho finally make it to Manchester United this summer? That is one of the hottest questions currently on everyone's lips. Be it in bars, clubs, coffee table, streets, social media or even in the couch of homes, Mourinho is the most-discussed topic.
Where will the Portuguese coach with the enviable football managerial CV finally go next summer? Will he be back to coaching? Is Jose Mourinho to Manchester United actually happening? These questions need answering.
The former Chelsea manager is also eager to get these questions answered at the earliest. "That's the one-million-dollar question," Mourinho told the BBC when asked if he is replacing Louis van Gaal at Manchester United next season.
Portuguese newspaper Diarios de Noticias this week claimed Mourinho has already signed a three-year deal at Old Trafford worth €20 million (£15.75 m).
Besides this report, there have been innumerable other rumours surfacing that the former Real Madrid and Inter Milan head coach has been zeroed in on by Manchester United staff as Van Gaal's successor this summer. Former Red Devils players, football critics and football fans are also scratching their heads as to when the confirmation is finally coming, if at all.
Some quarters have said Ryan Giggs could also be handed the head coach role at United next season.
"Nobody knows and I am the first one not to know. I read so many different things," Mourinho said. "I look to the future with more enthusiasm. Now I enjoy my quiet life in this period when I'm not working in football and I hope in the summer I will be back."
One thing is certain. Mourinho is willing to wait until he comes to the big decision where he is actually heading to in the summer. But for now, he says he is ready even if he is asked by a club to join as manager as early as the next morning.
"If I have to return tomorrow, I return tomorrow. I always feel it is better to wait and not to rush. Starting next season with a new club and project is probably the best for me," Mourinho added.