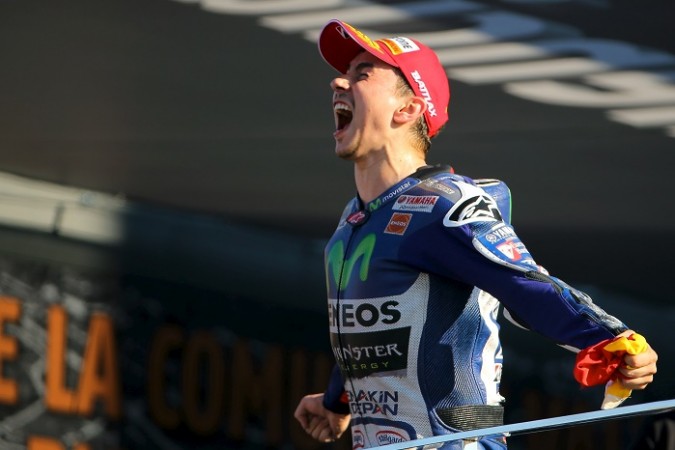 The reigning MotoGP World Champions Jorge Lorenzo won the French Grand Prix at the Bugatti circuit at Le Mans on Sunday. With this win, the Spaniard jumped to the top of the championship standings. Lorenzo is now five points clear of second placed Marc Marquez of Honda.
Lorenzo was followed by his Yamaha teammate Valentino Rossi and Maverick Vinales of Suzuki. This was Vinales' first podium finish of his career.
The race at Le Mans was eventful, as several riders (12) crashed during the race. Marquez, who was leading the championship standings until the Spanish GP, crashed as well, but he managed to restart his bike to finish 13th in the French GP on Sunday. The crash of Marquez carved out a wonderful opportunity for Lorenzo to leapfrog the former in the championship standings.
Ducati's Andrea Dovizioso and Andrea Iannone pushed hard for a top finish, but the two crashed out of the race in quick succession.
"This was a very important race, a great race for the championship. I wanted to keep a high pace and not lose concentration; I kept pushing on the throttle. I could breathe a little more when Marquez and Dovizioso crashed," Lorenzo was quoted as saying by AFP.
Rossi, who had won the Spanish GP a couple of weeks ago, clinched another podium finish. The Italian rider added 20 points to his tally and is now seven points behind Marquez in the standings.
Here is the current MotoGP 2016 standings: