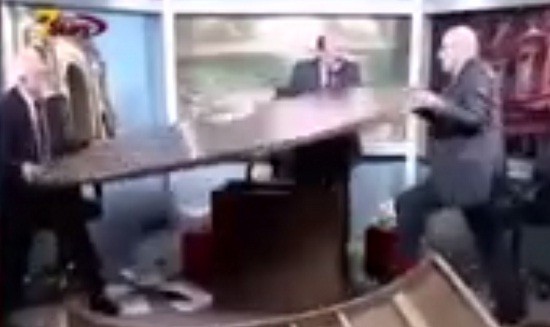 Two senior Jordanian journalists have garnered some international attention for their stance on Syria's Assad regime, after they destroyed a TV set in an attempt to attack the other, during a debate.
The on-air fight took place on Tuesday between the journalists on Jordanian talk show "Bayn Etijihayn" (Between Two Ways) aired on the channel 7 Stars.
The profoundly violent disagreement that resulted in the destruction of the TV set took place between Shaker al-Jawhary, head of the Electronic Media Association in Jordan, and Mohammad Sharif al-Jaiousy, the editor in chief of news website al-Mustaqbal al-Arabi.
According to reports from Al Arabiya, al-Jawhary opposed President Bashar al-Assad during the debate, while his counterpart al-Jaiousy was in support of Assad.
Within minutes into show, al-Jawhary grew furious and launched himself at al-Jaiousy. He can be seen first using the top of the table as a lance to shove into his opponent's chest. But when that fails, al-Jawhary rushes to al-Jaiousy and aims a few kicks at him, before the security guards forcefully restrain the two.
The show had to be cancelled but the video now has gone viral and had gained widespread criticism.
This certainly is not a first. In 2012, in course of a debate, a speaker - who took offense to the allegations - brandished a gun at his opponent, after throwing a shoe at him
MP Mohammed Shawabka, who had a close relation with President Assad, was debating political activist Mansour Sayf al-Din Murad on the uprising in Syria. As the arguments got intense and personal, the MP took off his right shoe and threw it at the activist, and then brandished a silver pistol.
(Ed: VP)
Watch Jordanian journalists destroying a TV set and attacking the other