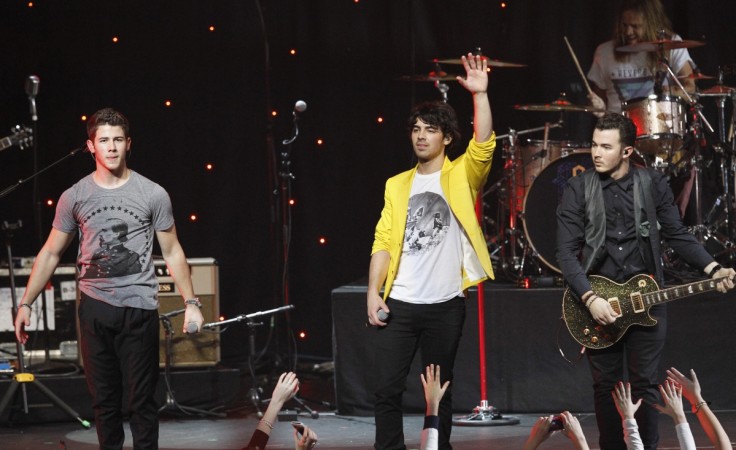 Belmont was gripped by fan fever and the Jonas brothers are to blame. The three siblings, Kevin, Nick and Joe, reunited to show support for their dad Kevin Jonas Sr's new restaurant, Nellies Southern Kitchen, on Tuesday, June 7.
While the restaurant's pre-opening party invitation was extended to 165 people, many more gathered after word of the Jonas brothers' presence spread across town. Devoted fans of the singers hung around to catch a glimpse the former Disney stars. But the excitement was much more palpable within the confines of the restaurant.
Joe took the stage with DNCE and belted out a few tunes. According to Inquisitr, the band performed their hit song "Cake by the Ocean," which had many of their family members dancing.
The Jonas family's new business establishment provided the singers an opportunity to catch up with old friends. The news outlet reported that while Joe was singing, his brothers Nick was mingling with the guests and Kevin spent time with his fans. In the end, however, Kevin Sr's new restaurant was a family affair and the brothers cleared their schedule to make time for family.
Nick, who cancelled his performance with Demi Lovato in Charlotte over the controversial "bathroom bill," made his way to the North Carolina city. His brother Joe, who was supposed to open for Selena Gomez in Charlotte later that night, spent time with his family.
The Jonas family's patriarch said the restaurant was close to his heart as it was named after his grandmother, Nellie. "Every day my grandmother would come home with cotton in her hair... and make the most amazing chicken and dumplings, biscuits and gravy," Gaston Gazette quoted him as saying.
Kevin Sr also said Nellie's Southern Kitchen is in part an homage to those who worked in the city's textile industry. He said his family had humble beginnings, with generations working on cotton plantations. "The Jonas family came to North Carolina 250 years ago. All of my family worked in cotton mills in this town. I worked in the cotton mill in high school," he stated.
In recognition of his father's hard work, Joe said: "I think he deserves a round of applause. Now this amazing city gets something incredible."