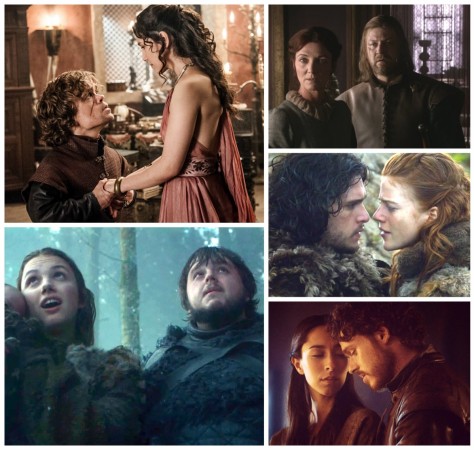 "Game of Thrones" fans have witnessed several surprises in the fantasy drama series. They are still reeling from Lord Commander Jon Snow's death in the finale episode of GoT", "Mother's Mercy".
Although violence forms a major part of the show as probable contenders fight hard for the Iron Throne, romance also plays an important role in it.
Find out the best romantic pairs of "Game of Thrones" till season 5:
Samwell Tarly and Gilly
Samwell Tarly (John Bradley), the eldest son of Lord Randyll Tarly, had rescued Gilly (Hannah Murray), the daughter and wife of Craster, and her newborn son. Although it is forbidden as a Man of the Night's Watch, fans witnessed their first love-making scene on the fifth season of series.
Jon Snow and Ygritte
Fans of "GoT" will never forget Ygritte's (Rose Leslie) famous "You know nothing Jon Snow". Ygritte was a member of the Free Folk. The courageous lady had a crush on Snow the first time they met. From kissing on top of the Wall to bathing together in a grotto, the couple had some romantic scenes. However, their romance was cut short just when it began blossoming.
Robb Stark - Talisa Maegyr
Robb Stark (Richard Madden) and Talisa Maegyr's (Oona Chaplin) relationship was one of the best in the series. It saw some sincere moments of love. However, the couple and Lady Catelyn were massacred at Edmure Tully's wedding, which is also referred to as the Red Wedding. Talisa was pregnant when she was killed.
Eddard Stark - Lady Catelyn
The Stark couple of Winterfell can be called as the best couple of "GoT". They are parents of Robb, Sansa, Arya, Bran and Rickon. It has to be noted that Catelyn had also accepted Eddard's bastard son Jon Snow.
Tyrion Lannister and Shae
After meeting Shae, the Imp or the half-man loved her sincerely, but couldn't accept her publicly as she was a prostitute. Even after his marriage with Sansa Stark, he tried to be Shae's man, but was left with no other option than to kill her as his father Tywin Lannister was sleeping with her. She had also betrayed the Imp at his trial for the assassination of King Joffrey.
Who, according to you, is the best couple on "Game of Thrones"? Vote below: